Adelaide Fringe festival: more than 1200 events; 442 venues. So much fun, but overwhelming much? No, here's how to get your head around the world's second largest annual arts festival, and find the places where the cool kids cluster.
I got a lot done within my first three hours at the Adelaide Fringe festival: I cosied up with some irreverent grannies, (A Visit With Nan in a Caravan), had an existential conversation, via text, with the Garden of Unearthly Delight's resident lemon-scented gum, and allowed myself to be spooked by spirits – well, some very clever sound art – in a pitch-black shipping container (Séance). And within three days, I had danced on stage to a soundtrack of Happy Mondays (We Are Ian), joined a toxic 'girl squad' in an experiential commentary on social media (Selfies After Dark), was serenaded by a hot pant-wearing, accordion-playing German (Hans: If You Don't Love Me… Leave) and felt genuinely moved by a work of finely crafted storytelling (Love Letters to the Public Transport System).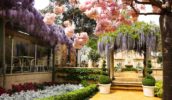 Joyous, mad, emotionally charged and thought-provoking, the eclectic mash-up of shows I saw and encounters I had over the festival's opening weekend is just your regular Fringe experience. Over the next month until 18 March, some 6000 artists will present more than 1200 events across 442 venues in the city – including two swimming pools (19 Weeks and Wet Sounds). It all adds up to the largest fringe festival in the southern hemisphere (second in the world only to Edinburgh) and to an inimitable atmosphere of fun and creativity.
"There's nothing that's not a Fringe venue", says Heather Croall, creative director & CEO of Adelaide Fringe. While there's plenty of big names on the bill – from TV comedians like Dave Hughes to drag superstar Courtney Act – the Fringe encourages festivalgoers to explore every nook and cranny of the festival by taking a punt on the unknown as well. "Go and see the weird and wonderful unusual basement Fringe venue that is a disused car park," says Croall. "And even if you go and see a Fringe show and you really don't like it – which will happen over the month – by the end, with all the shows you've seen collectively, you'll be a different person. Your mind will have been blown open a little bit and rejigged and reset – and that's what the Fringe festival does to everyone."
Sound good? The trick is to know where to start. You can experience all the Fringe has to offer, as well as Adelaide's recently exploded dining scene, by taking it one hub at a time. Here are five to get you started.
1. Fringe's unofficial festival hub
The Garden of Unearthly Delights and the adjacent Gluttony, two open-air venues spread across parkland in Adelaide's East End, comprise an unofficial festival hub. Here you'll find everything from the aforementioned big-names acts to contemporary circus (such as Attrape Moi! (Catch Me!)) and caravan karaoke (Beats in a Box).
While it's light, wander over from here to the nearby Botanic Garden, poke your nose into kooky glasshouses and pavilions, and hunt out the evolving installation, AdelEighties – Bring Your '80s.
After sunset, you're well placed to check out North Terrace and experience its awe-inspiring architectural projections as well as a recreation of the Northern Lights casting surreal shades into the sky (Parade of Light: Borealis). And, if you've been meaning to check out Orana, (Australian restaurant of the year in the 2017 Gourmet Traveller Restaurant Awards), or Africola (which serves North African food from one of the city's most acclaimed chefs), now's a good chance.
2. Adelaide's East End street party and classic pubs
Rundle Street and its surrounding laneways Ebenezer Place and Vardon Avenue (set within the attractive red brick structure of the old Adelaide Fruit and Produce Exchange) take on the atmosphere of a street party during Fringe time. The pavements brim with people drinking and dining at fine establishments like Hey Jupiter, Mother Vine and the Tasting Room at East End Cellars. Make sure to scope out this East End spot for breakfast, brunch and lunch too.
During Fringe, some of these much-loved Adelaide haunts double as venues. Catch comedy at the popular Belgian Beer Cafe Oostende or iconic pub the Austral Hotel, which is hosting shows including the Best of Edinburgh Comedy. And, just round the corner on Grenfell Street you'll find The Producers: a Federation-era pub that is a great live music venue today and hosts a good range of Fringe shows, including comedy and cabaret.
3. The comedy, cabaret and circus circuit
In the city's mid-town, tucked away from the buzzing action of the East End and North Terrace, is a mini arts precinct that captures the original, rebellious spirit of the Fringe. Look out for the Big Top on Hindmarsh Square – home to Cirque Africa – and at its south-west corner you'll find the Rhino Room; Adelaide's comedy heartland and where emerging comedians get their break. "At the Late Show," says Croall when I tell her I'm checking it out that night, in will walk a well-known TV comedian who started out in the Rhino Room 10 years ago. "They're still loyal and want to help the up-and-coming comedians get an audience and keep the Rhino Room buzzing. So it's an amazing little Fringe venue – it's awesome." Just down the road is Raj House, a hub for queer culture, arts and events that runs Rajopolis during the Fringe, a program of "drag queen shows, comedy and really confronting stuff," says Croall.
A 15-minute walk from here will bring you close to the Adelaide Central Market, where "you get La Bohème, a fabulous cabaret venue", says Croall, and then Tuxedo Cat at Broadcast Bar, "which is the Fringe of the Fringe of the Fringe – classic, hardcore Fringe that's really challenging, out-there and cool. Something that will just blow your mind."
Don't miss the chance to peruse the old school and new wave vendors of Adelaide Central Market, either; and check out its fantastic Pop-Up Bookshop and Fringe show-hosting space, the Gallery Next Door.
4. A small bar and street art crawl
Between Adelaide Central Market and the railway station, in the city's West End, lies a network of laneways that is home to a new wave of small bars. Try Pink Moon Saloon, wedged into an exceptionally narrow space on Leigh Street, and Clever Little Tailor and Hains & Co on nearby Peel Street and Gilbert Place.
Linger on Leigh Street to scope out some impressive street art, and use Adelaide Fringe's Street Art Explosion map to discover more. The Street Art Explosion program highlights Adelaide's position as one of the best cities in the world for street art, by commissioning new public murals in the lead up to each year's festival and helping festivalgoers unearth existing artwork hidden all across the city.
5. An intimate, world-class theatre experience
Step away from the colourful craziness of the Fringe for a few hours to catch world-class theatre in a gem of a Fringe venue. Showcasing independent theatre productions all year round across two spaces housed within converted church buildings, Holden Street Theatres is located in Hindmarsh, a 15-minute cab or tram ride away from the city centre. Highlights this year include three UK imports (the theatre fosters a healthy cultural exchange with Edinburgh Fringe): Love Letters to the Public Transport System, Borders and Flesh and Bone. I loved the funky, slightly off-beat vibe of the venue and how it provided my Fringe experience with a more sobering moment; though, you don't have to stay sober: the bar has festival deals on local Pertaringa wines and a rotating food truck offering (from Squid Inc. to Esarn Thai to Moorish Bites), too.
Good to know: Adelaide Fringe (until 18 March, 2018)
This year, the Adelaide Fringe website is even more user-friendly than ever, with numerous search functions allowing you to see what's on and where, when you're in town. There's even a GPS-enabled 'what's near me' search function – so you could be in a bar one moment and at a show down the road the next. Scavenger hunt GooseChase makes a game out of exploring the city and its various venues, and if you win you can score a trip for two to the Edinburgh Fringe. But, if in doubt, just walk down the street, take a flyer from the many performers spruiking their shows and give it a whirl.
More info: adelaidefringe.com.au