The first thing that strikes you when you get to Coonawarra is that it took you a bloody long time to get there, written by Nick Ryan.
Nearly four hours from Adelaide and not much else in between. Luckily the region makes some of Australia's best wines.
Across this wide brown land few places are as prized for viticulture as the narrow red strip of terra rossa soil that runs in a long cigar shape 12km long and two wide through Coonawarra.
This is seriously special and revered dirt. And one vine variety above all others thrives in it. Cabernet Sauvignon.
The region can also produce outstanding shiraz and white varieties with riesling and sauvignon blanc thriving in the distinctive red soil.
But perhaps the most valuable thing rooted in this soil is the tight-knit winemaking community spirit that works it.
To see it in action head along to the Coonawarra Hall on the last Friday of the month where trestles are covered in platters and casserole dishes everyone has made to share. Sure it's kind of daggy and old-fashioned but the real hospitable spirit of this place shines through.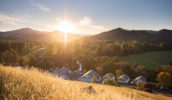 "This is seriously special and revered dirt.
And one vine variety above all others thrives in it.
Cabernet Sauvignon."
If someone else's curried sausages aren't really your thing my pick of the region's dining options would be Upstairs at Hollick for a great lunch gazing out over vines, Fodder in Coonawarra for the best wood fired pizzas or Pipers of Penola where Simon Bowen elevates excellent local produce into something special.
The other great advantage to Coonawarra is the ease of access to its cellar doors. Virtually everywhere you need to go is accessed off the main highway running right through the region. Just remember this part of the world has a big forestry industry and a lot of trucks. Must see places are Zema Estate, Balnaves, Majella, Bowen Estate, Katnook Estate, Redman's, Brands and Wynns.
Don't forget the town of Penola at Coonawarra's southern fringe has gone Mackillop canonization crazy so there's no shortage of chances to absolve your sensual sins.
Then you can go and commit a whole lot more in some of the region's very fine accommodation options. But there's one thing I just don't get about one of Coonawarra's best over nighting options. The lavishly large, self appointed townhouses Merlot & Verdelho in Penola are fantastic places, with bathtubs bigger than some of the local dams.
But why on earth would you name them after two such woeful grape varieties, one of which isn't even grown in the place?
The Details:
Hollick
Riddoch Hwy, Coonawarra (08) 8737 2752
hollick.com.com/en
Fodder in Coonawarra
Memorial Drive, Coonawarra (08) 8736 3170
fodder.net.au
Pipers of Penola
58 Riddoch Street, Penola (08) 8737 3999
pipersofpenola.com.au
Mary MacKillop Centre
Portland Street & Petticoat Lane, Penola (08) 8737 2092
mackilloppenola.org.au
Tea night at the Coonawarra Soldiers Memorial Hall
John Riddoch Road & Memorial Drive, Coonawarra
www.skp.com.au
Merlot & Verdhello
14 Arthur St Penola South (08) 8737 3035
merlotverdelho.com.au/