One of Australia's Great Indigenous Experiences is the Coorong Wilderness Lodge, located in the Coorong and Murray Lakes Region, South Australia . By Gail Liston-Burgess.
Gordon "Gordie" Rigby stands on the shores of The Coorong and points to the wispy white flower of a coastal shrub. "This is old man's beard," he says. "It's important for treating arthritis, muscle pains and skin sores."
The wind from the Southern Ocean whips across the dunes. "We get taught by the elders," Gordie continues. "They're the most respected people in our community." There's a rustle in the bushes along the water's edge as he retrieves a branch of Coastal Blue Bush. "We use this one around the campfire at night. It not only gives off a lovely scent but it gets rid of flies and mosquitoes." Handy indeed.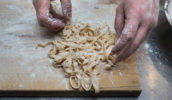 "You see this?" he says to Parisian visitor Simone Honnorat, who's busily translating for her companion. "This is Coastal Wattle and we use these pods to break down and make flour for bread – you can buy Coastal Wattle flour in the supermarket in town."
In less than an hour the tour group has seen a dozen different plants that provide food and medicine for the local Ngarrindjeri people, and has learned about the Creator spirit Ngurunderi, whose adventures created The Coorong and its surrounding environment, plants and animals.
"This is a meaningful area, a place to reflect on the world."
The Coorong is a vast wetland and one of the most important waterbird habitats in Australia. Stretching for more than 50km, this inland sea is less than three kilometres wide and is blocked from the Southern Ocean by a narrow ridge of sand dunes. "Some of the midden sites date back 6000 years," says George Trevorrow, owner of Coorong Wilderness Lodge on a remote point overlooking the impressive waterway. "Get in the canoes and Gordie will show you the largest."
It takes a short paddle, and an even shorter walk through the dunes, to arrive at a break in the sand hills carpeted with millions of broken shells and fish bones. For generations Ngarrindjeri people have come to this spot, sheltered from the winds, to build dwellings and consume a seemingly endless supply of seafood. "If you dig, you can find the same cockles as well," says Gordie, scraping at the sand as the ocean waves roll up onto the beach. Soon both hands are filled with the blue-grey shells.
DETAILS // Coorong Wilderness Lodge
South of Meningie, about two hours drive from Adelaide. One-hour Guided Bush Tucker Walks and Creation Story, $15 adult, $5 child. Three-hour guided tours, $60 per person, kids under five free. Kayak hire, $36 per person half day, $50 full day. lodgings Camping, $12 unpowered site, $24 powered site. Wilderness Lodge, $27.50 per bed per night, $70 private double room per night, $110 executive accommodation per night.
Phone // (+61) 8 8575 6041
Email // kurangk@im.net.au
Website // www.coorongwildernesslodge.com