Maree Cox disconnects from the modern world, and connects with nature and her family in the sleepy seaside village of Second Valley, SA
As we drive over big, boulder-strewn cliffs and down into a coastal village, my daughter squeals with horror when she realises she had no internet access on her phone. This means the only social networking she will be doing this holiday is with her family – how will she survive?
Welcome to Second Valley, a sleepy seaside village along the Fleurieu Peninsula in South Australia. The name derives from being the next valley north of Rapid Bay, another seaside hamlet on the other side of the cliffs.
In many ways the village is quite daggy, unpretentious and a step back in time. There is no beachside development, no Wi-Fi, no designer shops or trendy cafes. Pistachio green beach shacks sit hidden under giant pine trees, dairy cows graze in nearby paddocks and kangaroos roam the hills at dawn and dusk. A general store next to the only caravan park stocks basic supplies; milk, bread, newspaper, ice creams and fishing bait.
The sheltered bay and secluded coves are reminiscent of a Mediterranean village. The weather is warm, wisps of cirrus clouds hang high in the clear blue sky and small waves roll in onto clean white sand. Seventies inspired beach shelters line the rocky shoreline. The turquoise protected waters in the Gulf St Vincent make this a haven for snapper, salmon, squid and King George whiting. The occasional yacht anchors off shore to take advantage of the calm waters, while we swim and pods of dolphins come within metres.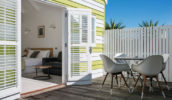 The Fleurieu Peninsula is renowned for excellent snorkeling and diving sites and we spend many hours snorkeling amongst schools of zebra fish and old wives. The ex-HMAS Hobart is only a short boat ride away and Rapid Bay Jetty (a ten minute drive south) is home to the endangered Leafy Sea-Dragon. It makes great access for fishing and squid is caught in large numbers. We stay there until late afternoon, watching the fiery sun sizzle into the sea as dusk steals over the rocky outcrops.
Our accommodation is simple with no unnecessary frills; a fibro cottage within walking distance to the beach. It was back to basics with quirky seaside decorations, rustic timber floors, 60's style laminate tables and chairs and tank water. A sign above the kitchen sink reads "Please wash up in plastic bowl during summer months and throw in the garden. We buy water by the tanker and please only flush when you have to".
Looking through the comments from previous guests, I notice that Gyuto monks from Tibet have spent many happy hours here.
However mornings aren't so peaceful. We wake to the raucous screeching of sulphur-crested cockatoos descending on pine trees and the magnificent warbling of magpies and noisy red wattlebirds.
If you're looking to get out of the valley for a day, just south is Cape Jervis where the ferry service operates to Kangaroo Island. It's also a popular base for fisherman and fishing charters and there we watched commercial fisherman unload their haul, while a resident seal waited in the water for a morsel.
Also nearby is McLaren Vale, boasting over 50 wineries as well as almond orchards, olive trees and quaint towns with an abundance of local produce, bakeries and craft shops.
The drive south from Second Valley to Aldinga snakes through hills and down to breathtaking coastal scenery where large Norfolk Pines line the road. For a great experience, drive the car on hard flat sand at Aldinga beach as we did, it's one of the few beaches in Australia you can drive on. With a 10km speed limit, we parked the car a few metres from the water's edge, ate fish and chips with a glass of chilled wine (from McLaren Vale of course) and played beach cricket. Life doesn't get any better – just remember to leave before high tide!
So throughout our stay, swimming and snorkeling replaced social networking, fishing and beach cricket replaced TV, and board games allowed for round table discussion. For our two daughters, their reliance on the "outside world" seemed to slowly diminish…almost.
Initially, I questioned my choice of holiday destination but as we head out of Second Valley for our journey home, we talk about our time– and it's all positive feedback. Then, in an instant there is silence again; they have connected back with the real world.
// Maree Cox is a member of our Virtual Internship Program. If you're a photographer or writer looking to break into travel journalism, we're here to help you get a leg up. To find out more, email us at interns@australiantraveller.com