To taste the rawness of this natural environment, the new Kangaroo Island Wilderness Trail offers one of Australia's great walks. Taking five days and four nights to cover the full 61-kilometre route, it has beautiful designated sites for camping.
However, Kangaroo Island is not only about rugged outdoor adventure. Extreme luxury is tucked discreetly among the trees at Hanson Bay, where internationally renowned Southern Ocean Lodge sits handsomely atop the cliffs.
There's also delicious fun to be had with food and drink artisans across the island, especially in the outdoor Gin Garden at Jon and Sarah Lark's KI Spirits (KIS) distillery; in the cheese tasting room at Island Pure Sheep Dairy; around the bar at Kangaroo Island Brewery; or enjoying a banquet prepared by star caterers Hannaford and Sachs, while concealed within the canopy of a giant cluster of 'enchanted' fig trees on their property at Snellings Beach.
As the road trip continues, you pass through a range of environments. Take the ferry off Kangaroo Island to Cape Jervis at the southern tip of the Fleurieu Peninsula, and the landscape immediately changes.
Along the scenic coastal drive, you can spy surfers riding gnarly waves in picturesque coves at Parsons Beach and Waitpinga, while eagles, hobby plane enthusiasts and hang-gliders all compete for air space above the high cliffs, and walkers trek along the adjacent Heysen Trail that heads north along an epic 1200-kilometre route through South Australia.
For refreshments, stop at Victor Harbor, and if it happens to be Saturday morning, grab fresh supplies at the Farmers Market in Grosvenor Gardens, with more than 30 stalls highlighting the diversity of the Southern Fleurieu's strong artisan food culture.
Other great fresh local food purveyors operating outside of market times include Jetty Food Store in Port Elliot.
Life unfolds at an easy pace along this coast. Take in a surf lesson on the gentle waves at Middleton with Dan and Meg Keelan's South Coast Surf Academy, or take a step back in time by revisiting the steam era on Goolwa wharf – home of the Oscar W paddle steamer, which books pleasure cruises, and the historic Cockle Train, which makes weekend coastal trips.
Take the 50-kilometre route around Lake Alexandrina to Langhorne Creek, which is blossoming as a destination for wine tasting with the emergence of more cellar door tasting rooms.
For decades, the region has provided fruit to many of Australia's most popular multi-regional blended wines. Now many grape-growers promote their own brands, with The Winehouse being a central tasting room and eatery that showcases several emerging wine brands and locally made Meechi beer.
Drive your car onto the punt that crosses the Murray River at Wellington, and the landscape changes as you move south, with cattle country on lush green flatlands in striking contrast to opposite rolling sandhills along the Coorong, a unique lagoon ecosystem that separates the end of the Murray from the Southern Ocean.
The dunes can be accessed in several places by 4WD crossings, and camping permits can be obtained. Canoe the Coorong offers exciting expeditions of the waterway, from a three-hour sunset tour to overnight camping trips, or even a four-day expedition covering 100 kilometres.
For a simple glimpse of Coorong life, the Jack Point Pelican Observatory can be reached after a short walk through dune vegetation near Policeman's Point to a viewing shelter overlooking pelican breeding islands.
At pretty seaside town Robe, a 90-minute drive south, the Cape Dombey Obelisk is a notable landmark standing high above the harbour, which is home to the southern rock lobster fishing fleet.
To get a taste of this delicacy, Sails Restaurant offers fresh southern rock lobster daily from October to May, but high demand makes it advisable to book ahead.
Chef Adam Brooks's main attraction is a three-course menu: lobster and king prawn ravioli in a curried lobster broth, Thermidor pie with apple coleslaw, and a lobster tail, potato and truffle croquette.
Chef Tom Tilbury has further bolstered Robe's dining reputation, although his Gather Food And Wine restaurant is only open from October to May, when he forages for local ingredients and features local produce such as Woakwine Station beef.
There are ample drink options, too, with Robe Town Brewery, created by Latvian couple Maris and Kristi Biezaitis after they settled in Robe in early 2013, and Mahalia Coffee's roasting factory and bustling cafe – its outdoor patio is a favourite local meeting place.
Driving south for another 30 minutes, Beachport makes a restful stop, being a popular holiday destination for watersport enthusiasts.
As you enter town by driving past a row of bold, elevated metal sculptures, check the surf beach to see if kite surfers are in action. Also be sure to follow Bowman Scenic Drive, which has spectacular views of waves crashing into coves, especially Salmon Hole.
Heading further south, The Tasting Room at Mayura Station near Millicent offers a paddock-to-plate experience, serving prime cuts of export grade Wagyu beef reared on the surrounding pastures.
It's a tour de force for beef lovers, with three meat courses hitting dizzy heights of pleasure for evening meals from Thursday to Saturday.
Travellers heading inland to enjoy the wines of the Coonawarra can also indulge in fascinating history lessons at the wine region's southern gateway city of Penola.
The Mary McKillop Penola Centre recognises the place where Australia's first saint founded the Sisters of St Joseph order of nuns in 1866. Nearby, Petticoat Lane's row of restored 19th-century cottages reflects early colonial life.
The epic drive reaches its conclusion at the southern tip of South Australia. Mount Gambier, one hour's drive further south, is a significant rural commerce centre, but also has fascinating natural curiosities.
Umpherston Sinkhole, also known as the Sunken Garden, is a dramatic feature in the centre of town, with the former limestone cavern's collapsed roof planted as a garden by local resident James Umpherston in 1886.
Head out of town to the beautiful Piccaninnie Ponds, a wetland of international significance, and The Blue Lake, a giant volcanic crater, dormant for about 6000 years, and now filled with more than 70 metres of the deepest aquamarine water.
Enjoy the night at James Morrison's new jazz club in Mount Gambier, a byproduct of the annual Generations in Jazz festival for Australia's finest school jazz groups, which Morrison has helped promote for 30 years.
Complete the journey by returning to the sea at Port MacDonnell, 30 kilometres south of Mount Gambier and home to famous diving sinkholes.
Gaze once more upon the relentless, pounding Southern Ocean that has been your constant companion through a fascinating, fluctuating coastal drive.
The Southern Ocean Drive runs for 1313 kilometres in its entirety, including Adelaide and McLaren Vale. Allow seven days.
Red wine from red earth
Coonawarra's long, skinny strip of rich terra rosa soil is home to some of Australia's most valuable vineyards, having produced wines of global distinction since the first grapes were vinified 120 years ago.
The region, 120 kilometres east of Robe, has important aspects of its wine history displayed at Wynns Coonawarra cellar door – the region's foundation winery, and largest landholder with more than 850 hectares under vine.
Superb cabernet sauvignon is the region's traditional flagship, yet an exciting future beckons with new-generation winemakers such as Sue Bell of Bellwether Wines.
Her tasting room, in the restored 148-year-old Glen Roy Shearing Shed, is surrounded by farm property that doubles as a camping facility and produce garden.
MORE… See all the Greatest South Australian Road Trips
The Details: The Southern Ocean Drive
Staying there: Southern Ocean Lodge brings luxury to Kangaroo Island's remote south coast. Each of the 21 suites opens to a private balcony with uninterrupted views of Hanson Bay. The aptly named Great Lounge is flanked by a dining area where chefs provide all meals.
Distinctive private hotel The Australasian 1858 at Goolwa strikes a smart marriage of rugged colonial architecture with luxurious contemporary fixtures and gentle Asian decorative touches.
Getting there: Distances are significant – more than 700 kilometres from Kangaroo Island's western tip to Mount Gambier alone – so smart planning is necessary.
On Kangaroo Island, cars can be hired at Kingscote, the airport terminal or Penneshaw ferry terminal. For your own car, book vehicle access aboard Kangaroo Island Sealink ferries between Penneshaw and Cape Jervis.
Break the long coastal drive into sections: for example, one hour from Cape Jervis to Goolwa; three and a half hours from Goolwa, via Langhorne Creek and the Coorong, to Robe (with the option of an 80-minute trip inland to Coonawarra); and 90 minutes from Robe to Mount Gambier.
Download The Southern Ocean Drive Map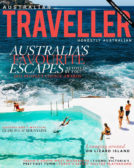 Enjoy this article?
You can find it in Issue 72 along with
loads of other great stories and tips.