Two states, three time zones and four days… Mark Whittaker braces himself for a game on the famous (infamous…?) Nullarbor Links
Quentin from Adelaide is buzzing. We meet him as we set out to play the first hole of the Nullarbor Links golf course. We are teeing off from the South Australian end at Ceduna, but Quentin began 1365km away in Kalgoorlie, Western Australia, so for him this is the 18th hole.
"It's all a razz," he says. "You've got to look out for rabbit holes and snakes and all that bullshit. I lost one ball because it went down a spider's hole and I was too scared to put my hand down to get it. I think they were funnel-webs."
All that and he's still smiling. "It's all just a razz," he says again.
I don't know what a razz is but I do already know this course has a lot to offer – like ball-stealing crows, wombats and dingoes. Early on the first morning at the third hole in Penong I see that you can buy real kangaroo tails from the drinks fridge. Stick that up your caddyshack and smoke it, St Andrews. I mean, how many golf courses can offer that – not to mention beer and accommodation at almost every single hole?
The holes are mostly located at roadhouses. You take your card into each one to be stamped. The course was conceived by the roadhouse owners, who came up with the idea as a way to slow drivers down on Australia's most famous stretch of nothingness.
Some of the greens are made from sand and oil but most are astroturf: little oases of green against the hard red earth. The ground is so hard you've got to tee up off bottle tops, because a normal tee won't penetrate the ground. I tried scrounging my tops off the ground, but this is a bad idea – they're brittle, and shatter after about three shots.
With an average of 90km between holes, I have a lot of time to contemplate how terrible my game is. But that is good. I relax as the trees and farms slowly give way to the classic treeless landscape from which the plain takes its name. And slowly my scores improve – from unprintable double figures to vaguely respectable bogeys and double bogeys.
This is a tough course. An annual tournament is played here and the winner only scores about 95.
Most golfers I encounter choose to BYO accommodation, but one bloke takes it a bit far, driving his caravan onto the fairway. "World's biggest golf buggy," he jokes. This is of course against the rules. I am of a mind to report him to the committee.
Booking in to a $120 motel room at Nullarbor Roadhouse, I find it… functional. If you visualise a mustard toilet and burgundy sheets, the rest of the picture will fill itself in.
The great part about there being so many trucks on the road is real trucker breakfasts. Lambs fry and bacon? No problem. I'm suitably fortified for a second day's golf.
The road and the fairways slide by. There's bulldust today. That is helpful, because it puffs up like smoke when the ball lands so even I can't lose it.
Five holes, 485km and a time zone pass in what feels like an instant. Pulling in to the last stop of the day, we are greeted by a sign: "Welcome to Cocklebiddy: Population 8, Budgies 25, Quails 7, Dogs 1, Kangaroos 1,234,567".
I see some of the human population, the budgies and one quail, but none of the 1,234,567 kangaroos. I do, however, see an emu and a king brown snake out in the rough. It is definitely safer to stay on the fairway.
Accommodation here is $100 per room, and the beds have the exact same burgundy sheets as the last place.
The roadhouses are little oases of petrol, beer and manufactured souvenirs, always with the low hum of a generator somewhere out the back. But the 13th hole is at a working sheep station, Fraser Range. It has an epic beauty to it. I feel like I'm in the Scottish Highlands, so it also marks the end of the flat, featureless Nullarbor. Soon we are in towns with supermarkets and art shops.
The last two holes are at the Kalgoorlie golf course, which has real grass, buggies and dress regulations – the most worrying being "no denim". But the pro lets me play anyway. "We are a little more relaxed on the Nullarbor Links people," he says. And out I go. The trouble is, my ball obviously wants to stay in the outback: it just refuses to land on the grass fairways, insisting on going bush in the red-dirt roughs. I know how it feels. I'd happily turn around and do it all again. It's been a razz.
"Nullarbor Links is one of those ideas you can't believe hadn't been thought of earlier… pure genius." – Dave Morley, smh.com.au
THE AT Verdict
Mark Whittaker, who paid his own way and visited anonymously, says:
"Few people would be as foolish as me and cross the Nullarbor just to play the golf course, but if you're already going and aren't on a tight schedule, it's one of those things you've just got to do. The course is rough, but it has the desired effect. It gets you out of the car to smell the flowers and the dust."

THE DETAILS
Where // Between Ceduna, SA, and Kalgoorlie, WA. You can begin at either end.
Notes // The Nullarbor Links cost $70 to play. For that you get a map, brochures, scorecard and a certificate if you complete the course. Sign up at the visitor centres in Ceduna, Kalgoorlie or Norseman. Allow four days to play the course comfortably, although you could do it in three.
Contact // 0407 990 049; nullarborlinks.com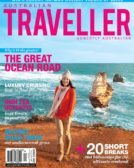 Enjoy this article?
You can find it in Issue 45 along with
loads of other great stories and tips.