In the past few years, something never before recorded in history happened in South Australia: the filling, and re-filling… and re-filling… of Lake Eyre. Australian photographer Peter Elfes has been documenting the process. Words by Georgia Rickard (and Ryan Auberson-Walsh)
Peter Elfes does not consider himself a betting man.
"But do you remember that Gwyneth Paltrow movie, Sliding Doors?" he asks down the phone line, from his holiday home on the NSW South Coast.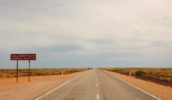 He's referring to the 1998 film that explores the dramatically different paths one's life can take in accordance with the events of a single moment; a movie that, depending on your level of scepticism, is either an intriguing exploration of fate and coincidence, or far too much Gwyneth Paltrow.
"That movie pretty much perfectly demonstrates what I experienced," he says. "Where a moment either way will change the course of your life forever."
Peter is referring to the Lake Eyre helicopter crash of 2011; in which three veteran ABC newsmen, shooting a documentary about the area, were tragically killed. The catch: Peter too, was due to be on board that helicopter. They were friends of his.
"For some reason I'd let my phone battery go dead, and my wife started getting text messages from all kinds of people asking where I was at 11 o'clock at night… I looked at the texts and said, 'Turn the TV on.' So we did, and, just… I don't know what to say. I kind of ran outside. I was pretty flipped out."
Losing three friends to one of Australia's biggest natural enigmas, however, did nothing to lessen Peter's passion for documenting it.
"On the contrary, I was even more determined than ever. I felt like it was left to me to carry on the legacy of what they had started."
Dampening the always dry myth
And what a task that was. Lake Eyre, officially known as Kati Thanda–Lake Eyre, is one of Earth's most fascinating phenomena; a blockbuster combination of nature, mystery and pure, unadulterated vastness. It was considered permanently dry by European settlers from its discovery in 1840 until its first recorded filling in 1949; an incredible feat of nature when you consider the lake's sheer size. Come here, says Peter, and you have a tendency to lose perspective on things… literally.
"When there's water lying on the salt pan and no landforms around, there's no point of reference, there's just reflection," he says. "Sometimes you can't physically tell what's up and what's down. It's the kind of place where you throw the rule book away, because everything there is so unlike anything anywhere else."
There is a similar sort of mysticism surrounding the lake's appearance, which has been constantly evolving since it began re-flooding in 2009.
"I can honestly say that, having seen it since 2009 until a few months ago… it's completely different to anything that it looked like before."
For Peter though, a lack of enthusiasm emerged over seeing a thirsty desert lake drink up more than its fair share of precious water, morphing into a colossal ocean that appeared "pretty boring."
"The interesting part of it is how the water breaks out into different places and what it does to it, especially in places where it hasn't had water before, contrasted against the beautiful colours of the desert," he says. "The real attraction for people was the path of the lake that is flat and open that gets water, and that really is quite alike something you can see from a satellite, one of those world scale environmental things."
The lake is alive
The lake itself is very much a living entity. The bed of salt during its dry years performs as a rough-and-tumble leading lady of the desert stage, acting as a thick, cracked blanket over a tapestry of microscopic organisms that give the Kati Thanda its kaleidoscope of colour.
"If it doesn't get water for the next 10 years the colours might start to diminish a little bit but all the micro-organisms that live there, they actually lay dormant, they never actually die, they're a bizarre thing."
Buried under a surface of dirt, the tiny creatures are practically ocean dwellers, the lakebed sitting 15 metres below sea level. This is something Peter remarks on in childlike fascination.
"If we were out in Bass Strait we would be underwater."
The fact of the matter is that the living lake can be a dangerous beast. Submerged much lower than the mountains that enshroud the region's dry borders, an inexperienced pilot would be wary not to wander across the desert ocean in imperfect weather.
"If you don't know how to read your instruments and you're flying in fog, it can be really scary. If you're flying in those conditions where it's clear but you've got water reflecting, it can be really scary and it's not impossible to suddenly not realise how close the water is and then before you know it, it's too late," he says.
For some, like Peter's friends and colleagues, the Australian landscape deals up the most unfortunate hand of cards, and it's a wonder the Eyre isn't a graveyard littered with more skeletons of auburn-rusted planes and choppers.
The sombre news hasn't slowed down locals though, taking the seasonal changes to the lake as an opportunity to pounce on any incoming tourist dollars.
If it floods, they will come
"At the end of 2010, when the lake was filling completely, they were bringing planes in from Alice Springs," Peter says. "Altogether there must have been easily 40-50 light aircraft that can hold anywhere between six and 12 people."
Gaining a leg up on regions of the world deemed inaccessible by tourists because of safety and cost, its very existence as a thriving tourist destination makes a poetic gesture towards the outback's assumed inaccessibility. On that topic, Peter has the authority to be blunt.
"Sure they [similar landscapes] possibly exist, but they're totally inaccessible. You'd never in a million years be able to get to them unless you mounted some crazy expedition which costs $50,000 and you had to hire an Argentinian Puma helicopter."
"So many Europeans, especially Germans for instance, are all desperately trying to get to Australia, and the first thing they do when they get here is go to the desert."
Peter has met his fair share of beer-loving, strudel-eating Germans. Once curious about their dominating presence in the desert scrub, he asked one about their reasons for migrating down under for a summer getaway.
"They say, 'because it's a really safe place, it's a beautiful place, it's also got beaches, we can go swimming, we can do everything.  You can go from the mountains to the desert to the sea all in one go.'"
Mother Nature's transformative magic at Lake Eyre has been a gift to Peter's photographic work and an assistant in his journey to understanding the wonders of our antipodean landscape.
It's "moments like that are the ones that made me realise that this whole odyssey has been all about realising that we live in a very, very diverse country," he says. "It's not just tropical, and the deserts aren't just red sand."
"It's a breathtaking and extremely beautiful place to visit because of its vastness … and there are dingoes running around in the middle of nowhere."
A photographic legacy
The images that Peter is able to capture are now a part of his own legacy – they're an extension of the work that his ABC mates first set out to capture and document, and they're utterly beautiful in their alien-like form.
His presence in one of the desert's deepest, darkest inland lakes marks a monumental artistic stepping stone for photographers Down Under, and reflecting on past events, he says it's partly as a response of finishing what his colleagues started.
"I thought well if nobody picks up the baton and runs with it, it would feel like to them especially that all was in vain and that seemed like a senseless act of cruelty."
Something eerily similar to what a noble philosopher might resonate, he says the "decisions that we make for reasons that we can't explain sometimes change the course of our life."
Just like in Sliding Doors, Peter's life changed after a single moment, one that put his wife on edge, and allowed the hungry monster of a landscape to feast again. But rather than let the ferocious wilderness commandeer his quest, he soldiered on. And, as is seen in his colourful imagery, he conquered.
Peter might be one to say "the best form of advertising is word of mouth," but judging by his surreal photography in The Green Desert, it's probably fair to say that a good photograph also goes a long way.