Catching and cooking Kimberley mud crabs at Kooljaman Safari Camp on The Dampier Peninsula is number 81 on Australian Traveller's '100 amazing places you haven't been to yet'. Nominated by: Curtis Stone, chef.
In 2004, Curtis Stone landed an absolute pearler of a gig, travelling and cooking his way around Oz with his best mate while filming a series. And of all the places he went, there was nothing like the Dampier.
"My first impressions were of heat and vibrant primary colours. It is hot, tropical, a little humid, and this dictates the pace at which things get done," says Stone.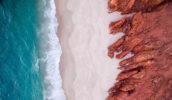 "The coastline is spectacular. The ocean is a pearlescent green. The sky is a rich, endless blue. The greens are tropical, bold and lush. And the soil is like a deep, dark ochre red. It's so spellbinding. No wonder people are drawn back there and others find it hard to leave," he says.
One of Stone's highlights was meeting a local by the name of Baamba. "He was an actor, a singer, and a know-all about who's who and where to get everything. He'd been married four times, and has a heap of grandkids and loves good food, so on that count alone we were destined to be good friends," says Stone.
"We asked Baamba if we could get some mud crabs, and he knew exactly where to take us. Catching mud crabs might sound like fun, but a clue to what it was really like is contained in the name. We waited until low tide, and then headed out into the knee-deep mud where the mangroves grow.
"With the help of a long piece of wire – which is used to prod the mud until you detect it clicking on a shell, and then to coax the muddy from its hole, being careful to avoid its nipping claws – we got crabs into a bucket, and back to dry land, ready for culinary inspiration. I turned my catch into a Tian of mud crab, avocado and tomato with lime mayonnaise."
Baamba might be harder to locate than the crabs themselves, but as Stone says, Kimberley crab really is something – and your own crabbing lessons can be had at Kooljaman Safari Camp.
Located right at the tip of Dampier Peninsula, some 200 clicks north of Broome, the wilderness retreat is a fabulous glamping experience owned by the local indigenous mobs. We can't recommend it highly enough.
Return to: 100 Amazing Places You Haven't Been to Yet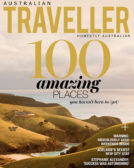 Enjoy this article?
You can find it in Issue 62 along with
loads of other great stories and tips.