Elisabeth Knowles visits Wildman Wilderness Lodge in the lead-up to the wet season, and finds a beautiful green landscape with plentiful native wildlife.
It's mid-afternoon and I am sitting on my balcony watching two wallaroos engaged in battle. Sized midway between a kangaroo and a wallaby, these muscle-flexing macropods do indeed look like cartoon boxers – but not the red-leather-gloved kind. These two are more your bare-knuckled, Muay Thai-style kickboxing type of guys. Heads up, chins raised, the two fighters come at each other in a tangle of forearms, locking together and stumbling across the ground until one suddenly kicks up with both legs, hard into the other's chest, and they separate for a moment, startled – "Oops, did I hurt you? Good!" – before plunging back into the stoush.
More wallaroos are scattered across the open lawn in front of my cabin – I count 36 of them from where I sit. The closest is about two metres away. They couldn't really care about my presence as they go about eating grass and scratching themselves – unless I make a sudden movement or sound, in which case they all stop stock-still and stare at me for seconds on end, as if we're playing a collective game of "statues".
All, that is, except for the fighters, who are so ardently full of hatred for each other that they are in combat for at least half an hour. With the occasional ceasefire for a scratch.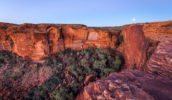 I am mesmerised. At first I was worried I might get bored here, but a book I've been aching to get time to finish never leaves my suitcase. Instead of reading in my air-conditioned room, I'm quite content to sit out in the heat and humidity, under the shadow of a pitched roof, staring at animals.
Wallaroos are pretty things with painterly markings. Black lines define their eyes and cheekbones. They look made up. Beyond the wallaroos, red termite mounds appear here and there like sandcastles, and pandanus palms reach for a sky heavy with the gathering black-bottomed clouds of the wet season.
I watch as a flock of magpie geese swoops in. Long-necked and fat-bodied, the native birds make good eating, according to this land's traditional owner, Ned. He later says that if the AT team comes back to Wildman, his brother Daryl, an elder, might just cook us one on the barbecue.
The birds separate and start pecking at the dirt on the red-earth landing strip – a facility for guests who want to fly themselves in – that stretches the length of the camp. I call it a camp because Wildman Wilderness Lodge has a touch of the M*A*S*H four-oh-seven-sevenths about it. Up one end of the airfield, a cluster of huge canvas tents could be a makeshift field hospital at a frontline army base. But there is nothing rudimentary about them. Custom-made in Africa, the glamping-style semipermanent tents are timber-floored and decked out with king-size beds, plump pillows, fully plumbed ensuites and wide, covered verandahs.
They are the only new constructions at Wildman. The rest of the lodge was recycled from Wrotham Park Station, a former top-end cattle-station stay perched above a gorge in central Far North Queensland, which was closed down, packed up and shipped 2800km west along outback roads in an operation that would have made a great episode of the Monster Moves TV series. The communal dining/lounge/bar pavilion was from Wrotham Park, as were 10 modern, glass-walled, single-room cabins, or "Habitats". Even Wildman's chef, Aaron Lee, was recycled from Wrotham, although he moved on himself at the end of last season.
Wildman opened in April 2011, in a partnership between boutique travel business Anthology (which also owns Wilpena Pound in South Australia's Flinders Ranges), Indigenous Business Australia and the land's traditional owners. Ned and Daryl are caretakers of the site and lead guests on guided 4WD, quad-bike, boat and walking tours of the property.
They clearly enjoy sharing the history and culture of their land, and Ned is particularly proud to show off his grandfather's hut, built in the 1950s from sturdy hand-hewn posts. Back then, the frame was covered with sheets of paperbark to create a shady shelter. When Ned and Daryl were given back their land six years ago, one of the first things Ned did was cut back the undergrowth around the hut – luckily, because shortly after that a lightning strike caused a grass fire that would have destroyed this piece of family history.
You can see why Ned's grandad built here, on a little rise that looks across flood plains to Leichhardt Point, where a beautiful billabong is covered in giant pink South-East Asian waterlilies, and native birds try their luck cohabiting with estuarine crocodiles. Frequent guests to the billabong include wild water buffalo, jabiru (black-necked storks) and the ubiquitous magpie geese.
But you'll find all those creatures close to the lodge too. A tinny ride on the 3km-long Connellan Billabong (aka Home Billabong) is a perfect introduction to the wetlands. There are 12 types of fish in the billabong, including catfish, rainbow fish, tarpon, saratoga and barramundi. While the flood plains at Leichhardt Point are thick with introduced waterlilies, the delicate little purple flowers that drift with their lilypads on the Home Billabong are natives. Ned pulls one of their reed-like roots out of the water and offers it around. It tastes just like celery.
Red-bodied dragonflies and butterflies skim the water's surface. We spot white-bellied sea eagles, pied herons and cormorants, egrets, jabiru, goshawks, little kingfishers, red-combed jakanas (also called Jesus birds because they walk across lilies), and radjah shelducks, known as "$5000 ducks" because you get fined $2500 if you kill one. Because the birds mate for life, you pay for both.
Up to 35 crocodiles are believed to live on the Home Billabong, a half-and-half mix of fresh and saltwater beasties, but I didn't see one – not fully anyway. Apparently they are most likely to be spotted at night (no thank you!) and because it's so hot in the Top End of Australia they tend to spend most of the day underwater. I did see a couple of nostrils and two eyeballs sticking up above the billabong's surface, and a trail of bubbles here and there. But after seeing a photograph of Wildman's largest croc, called Big Arse, a 5m-long monster of a thing, I'm glad I didn't have a closer encounter.
The one animal I loved seeing most on this trip was the dingo. They look so healthy in this part of the country, with thick, rust-red coats. My final count came to five. A big one crossed a 4WD track in front of us. A lone ranger tracked us for a while in Kakadu. Two fat, playful pups wrestled on the side of the highway. And, best of all, one trotted across Wildman's runway while I was eating breakfast, and I was the only one who saw. Happily, wallaroos are late risers, or there may have been strife.
Activities:

• Walking trails: Various routes are marked out around Wildman. There are 20/30/45-minute trails that take you through forests and across flood plains. You can also do these by mountain bike or take a guided walk that explains flora, fauna and the cultural signifance of the area. Free.
• Quad-bike tour: Guided tour of Wildman, from Connellan Billabong to Leichhardt Point. Guests 16 years and older only. $120 per person.
• Home Billabong Cruise: A one-hour tour of Wildman's own Connellan Billabong. See crocs, birds and more. $55 per adult, $35 per child 13 and under.
• Mary River Rockhole Cruise: Go offsite to explore the river that makes this wetlands ecosystem so green and full of wildlife. $75 adult; $45 child 13 and under.
• Full-day Kakadu Tour: Depending on road access and time of the season, you'll be taken up the Old Jim Jim Rd, a 4WD-only experience. Whichever way you get there you'll see some of the oldest rock art in the world in Kakadu's Stone Country, with views into Arnhem Land. $250 per adult; $145 per child 13 and under.
• Leichhardt Point sundowners:
A sunset tour to lily-covered wetlands where you have an evening tipple while you watch the birdlife soar across an intensely coloured sky. $65 per adult; $40 per child 13 and under.
The Details:

Where is it? Wildman Wilderness Lodge is halfway between Darwin and Kakadu, in the Mary River Wetlands.
How to get there? Fly in to Darwin, then drive. Wildman is 170km from Darwin along well-maintained roads; even the last unsealed 7km section is well graded. Be careful if it rains, though: the road can wash out. Transfers are available at $125 per person each way courtesy of a Wildman vehicle, but we recommend hiring a 4WD from the airport so you have the freedom to explore the surrounding national parks. Many guests visit Kakadu during their stay, then drive back to Darwin via a day trip to Litchfield National Park. Scenic helicopter and fixed-wing aircraft transfers are also available on request (price on application).
Accommodation & rates: There is limited mobile phone coverage and no televisions at Wildman. Complimentary wi-fi is available in the bar of the main lodge building.The two styles of accommodation are:
• HABITATS: 10 freestanding, air-conditioned cabins. $315 per night per person for a couple; $515 per single.
• SAFARI TENTS: There are 15 of these, custom-designed with their own toilets and showers; 10 sleep up to four people and the others up to five people, while four of the tents can connect together (2×2) to cater to large families. $245 per night per person for a couple; extra adults $115 per night; $90 per night for children under 12; $375 per tent per single occupant
.
Prices valid March 1 to November 30, 2012. Includes breakfast and dinner daily. Contact: (08) 8978 8955; wildmanwildernesslodge.com.au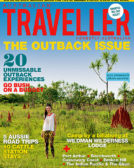 Enjoy this article?
You can find it in Issue 43 along with
loads of other great stories and tips.