Quentin Long reckons you can't keep a good town down – and the pretty Victorian village of Beechworth is proof. If one could drive to Shangri-La I imagine it would be akin to the drive to Beechworth. The road begins its climb towards the town through gentle, verdant hills. The sun shines, the blue sky contrasts prettily against green peaks and marshmallow clouds. The animals in the fields are healthy. It's a content land.
I can't help thinking how different this drive would have been three years ago. In my imagination, thick smoke rolls down the road and the benign hills threaten to leap into fiery beasts. It would have been driving into Dante's inferno.
The Beechworth blaze on Black Saturday was by no means the worst of that awful day. But 30,000 hectares were burnt in those few days, with many surrounding towns threatened. Thankfully there was no loss of life or buildings in Beechworth itself.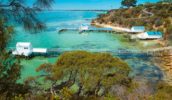 Evidence of the bushfires is actually hard to find on the drive up. I go in search of a rising-from-the-ashes recovery tale and leave feeling a bit of a fool. Beechworth has moved on. Time we all caught up.
PERIOD DRAMA
Bushfires aside, times past are a huge drawcard for Beechworth. The streetscape is gorgeous, probably the best in Australia. Two streets of heritage-listed buildings with lovely original timber awnings.
But at the end of the day it's a facade. To get beyond the frontage I book on a historic walking tour. I love a walking tour.
"And who are you?" Ian Sinclair bellows at me once he spots my camera and note-taking. He speaks through copious facial hair fashioned into a dominating mutton-chop beard. The hirsute face is paired with a waistcoat, black boots, low-slung belt, trilby hat and moleskin breeches. He pretends to berate and mock the small tour group when his questions are answered incorrectly. Everyone laughs along. He is my perfect guide.
He leads us through a small huddle of blond granite buildings that form the main historic precinct on the edge of the town centre.
Ian halts in front of the euphemistically named Chinese Protector's Office: the protection offered was enforcing apartheid. The Chinese were forced to live and work in the worst parts of the goldfields; the Protector's Office enforced it. Why the Sinophobia?
"They worked too hard!" says Ian in his booming, facetious tone.
Ian's favourite stories are about a former police District Inspector, John O'Hara Burke. According to Ian he had two notable qualities: eccentricity and no sense of direction.
Burke disregarded many accepted norms, for instance by completing his reports in an open-air homemade bath in the middle of the precinct wearing his police cap, smoking a pipe and having a glass of port.
As for no sense of direction, "You wouldn't want to take him on an expedition to cross the country!" Ian bellows through a bushy smile.
The penny drops. "Aaah! He's the Burke of Burke and Wills!" the small tour party and I collectively murmur. Ian glows that he has managed to pull off the big reveal.
A DATE WITH A FISH
I have had a date with a tiny fish since writing about Michael Ryan's Provenance restaurant for the "100 Greatest Gourmet Experiences" feature (April/May '09). I have craved eating Michael's "An anchovy and its fried bones".
It is a masterful, simple snack, intelligent and innovative. Michael is a former food scientist turned two-Hat chef who applies his enormous brain power to the food he serves.
The Provenance is in the old Bank of Australasia building with simple timber tables and chairs. Three menus appear when I am seated: à la carte, degustation and vegetarian degustation.
My notes for the entire meal are full of the most fawning comments, but I'll spare you those. Let's just agree I'm enthralled.
It's a sign of such intelligence and diligence that the vegetarian options are perhaps more interesting than the meat dishes. The first course is "Pickled, raw and cooked vegetables, puffed rice, congee sauce". It is an astounding dish, particularly from such unremarkable ingredients.
Each of the dishes deserves a lengthy commentary that space does not permit. My last note will have to suffice. "Every ingredient is so deliberate and purposeful. It proves that, in the right hands, the whole is always greater than the sum of the parts. A meal like this happens rarely."
NICOTINE FOOD
The other decent place to eat in town is Gigi's of Beechworth. This simple wine-bar-cum-restaurant serves good-quality meals without fuss or fanfare.The food is a little pricey but it is well thought out.
The local dam is fished for yabbies for a consommé, but looking over the menu, the dish that screams "eat me!" is the roasted spatchcock with blackberries and tobacco cream. Taking his cue from the surrounding valley's heritage as tobacco-growing country, chef Stuart Ford experimented with many tobacco recipes to arrive at a room-temperature cream where the nicotine doesn't overpower everything but complements the blackberries. It works.
HISTORY COMES TO TOWN
Sometimes people bring the history to Beechworth. The 1860 luxury cottage doesn't actually belong in Beechworth, even though the old timber-slab hut fits the historic town like a glove.
Owners Gina Bladone and husband Matt Pfahlert transported the old cottage here from Taggerty, more than 200km away. The cottage was dismantled and each piece carefully labelled so it could be transported and totally
reconstructed using traditional building methods on its current site. It was a labour of love for Matt, who has a fascination with and collection of old building tools.
The lovingly restored single-bedroom cottage is more romantic than a Venetian penthouse. The interior design is outstanding. High vaulted ceilings, exposed timber walls and a chesterfield sofa in front of a fire are just the beginning. I love the huge old bellows, which have been turned into a coffee table.
"We can be very unpopular with the local restaurants. Our guests will often get just too comfy on the couch and ring to cancel their dinner reservations," Gina tells me.
A JOB TO DRIVE YOU CRAZY
"This area is full of nuts," chuckles Shane Harris, owner of The Stanley Pub. It's a local pun. The area around Stanley, just 10km from Beechworth, is the biggest supplier of chestnuts in Australia and until 1995 was also the location for one of the largest mental health hospitals in the state.
Shane is an immensely positive, bubbly person. He needed all that positivity when he decided to renovate the run-down Stanley Pub. Nine months after he and wife Annemarie took it on, they lost their home on Black Saturday.
But if there was a silver lining to that very black cloud, it was that the local press attention helped let people know the old Stanley was undergoing a transformation. It's a message slowly getting through.
"I had a local walk in the other day who had not been in the pub for five years. They had a disagreement with the previous owners. They had heard good things over the past few years before they came back." Time does march slowly on in Stanley.
Today it's a cute country pub that has more of a bar feel once you walk through the doors. The polished floorboards, chic wine bar ornaments and sun-filled rooms give the old pub a contemporary update.
ANYTHING BUT PLAIN
Genevieve Milham is another Stanley resident who could not be considered a local. A Sydney architect, she moved to Stanley in 2008. She bought a property and set about restoring the old timber cottage on the land.
Called Planetrees after the trees along the entrance driveway, the cottage is simple with eccentric touches. A dramatic bridged entry greets you. Exposed timber beams give the entire structure incredible texture and character. Nothing is uniform.
"Not a straight line in the place," Genevieve says, looking around her creation. The lodge, as Genevieve likes to call it, consists of four large bedrooms and two shared bathrooms, a large living area with comfortable sofa, and full kitchen facilities.
The garden is spacious with an orchid-cum-olive grove, a large lawn and a pergola for a relaxing outdoor meal. It is a lovely and interesting holiday home in the mountains.
As I said, there is no phoenix story to be found in Beechworth. The fires of 2009 are just another layer of history in a town full of character – and characters!
The Details:

Where is it? Beechworth is 290km north-east of Melbourne.
How to get there? It's a three-and-a-half hour drive from Melbourne or a 50-minute drive from Albury Airport. Virgin, Rex and QantasLink all fly to Albury.
Where to stay:
• 1860 Luxury Accommodation. From $295 midweek, including breakfast hamper. 4 Surrey Lane, Beechworth. 0408 273 783;
1860luxuryaccommodation.com
• Planetrees. From $250 per night including breakfast hamper. 52 Myrtleford Stanley Rd, Stanley. (03) 5728 6589;
planetrees.com.au
• Provenance Restaurant & Accommodation. From $295 per night midweek, including cooked breakfast. 86 Ford St, Beechworth. (03) 5728 1786;
theprovenance.com.au
• Bald Hills B&B. From $280 a night including breakfast hamper. 570 Myrtleford Stanley Rd, Stanley. 0427 271 356;
baldhillsbnb.com.au
Where to eat:
• Provenance Restaurant & Accommodation (see above for details).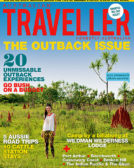 Enjoy this article?
You can find it in Issue 43 along with
loads of other great stories and tips.