Victoria's King Valley introduces a wonderful wine trail, known locally as Prosecco Road
Prosecco Road is a new food and wine trail through Victoria's picturesque King Valley. Meandering through this rural Little Italy, you'll encounter many vineyards owned and run by migrant Italian families who love nothing more than enjoying a bottle of wine, a table full of fresh-cooked food and a game of bocce. AT spoke to Otto Dal Zotto, the first prosecco grower in the region, about what makes his part of the world so special.
How long has Dal Zotto Wines been growing prosecco in King Valley?
We started growing prosecco in 1999 because of my family connection to the variety. I was born and raised in Valdobbiadene, Italy, the home of prosecco. King Valley has unique terrior and perfect conditions for prosecco. From the rolling hills to the cool nights and warm days, it really reminds me of Valdobbiadene.
What dishes would you suggest people pair with prosecco?

When I was growing up I was told that prosecco goes well with anything – from breakfast to bedtime! But if I had to sit down and match dishes, I'd say oysters or any antipasto with a touch of spice, such as pancetta with white peaches and labneh. Or the sage leaves with anchovy paste we serve in our trattoria, La Frasca.

What can people expect from a visit to Dal Zotto?

Expect to be met with traditional Italian hospitality. On any occasion you will be served by someone in the family, from Elena, my lovely wife, at the cellar door or by my sons Christian and Michael in the trattoria. We keep it in the family!
What else should visitors see while they are in the area?
King Valley is blessed with so much natural beauty. The hills of King Valley are amazing and a hike through these hills is a must. Also see Paradise Falls, Powers Lookout and Lake William Hovell.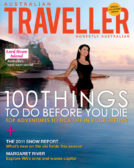 Enjoy this article?
You can find it in Issue 38 along with
loads of other great stories and tips.