If you prefer your treasures a little more 'limited edition', head to Christine Accessories (181 Flinders Lane). This ode to fashion is the basement brainchild of Christine Barro, and it's the best-kept secret (well, was…) of the truly stylish. Don't let the humble name fool you – this is where your new favourite piece of jewellery is waiting.
Next, head up nearby Bourke Street and into Crossley Street to Madam Virtue & Co. It's decadent vintage couture like you've never seen, lovingly curated by owners JC Lloyd-Southwell d'Anvers and Dean Hewitt (under the astute observation of lady-of-the-manor 'Maude', a well-dressed Sharpei). Be prepared to be draped in luxury and fussed over – don't fight it.
Now that you're on a roll, head to the Paris end of Collins Street (north of Swanston Street) for some above-the-line decadence. You might need to re-mortgage your house first, but Miss Louise Shoes (Shop G4, The Westin, 205 Collins Street) offers walls of satisfaction for those with a fixation on footwear. From Jill Sandler to Valentino, it's the sort of store that would give Carrie Bradshaw convulsions… not to mention that Chanel, Louis Vuitton and Hermès are all within a stone's throw away. Fingers crossed for a sale.
Needing some post-shopping sustenance you should take yourself out of the hustle of mid CDB for some reprieve and head towards Southbank. The Atlantic (Crown Entertainment Complex, 8 Whiteman Street) offers a damn fine oyster and champagne bar, or if seafood isn't your thing, touch base with Neil Perry's star offering Rosetta (also in the Crown Complex). The Italian-style menu is only made better by the stylish (leaning towards decadent) décor of chandeliers, marble and floor-to-ceiling windows.
Revived and ready to go back into the fray, head back city-side to visit Lily Blacks (12 Meyers Place). She is a lady with serious cocktail tastes.With one of the more impressive collections of bitters this side of the border, it's got bartender credibility in spades. Sit at the bar, talk to your tender, and watch your ice being hand-chipped from a giant block.
Next, it's straight from serious to salacious at Madame Brussels (Level 3, 59 Bourke Street) located just around the corner. Named after a real life madame from the 1880s, it's a virtual wonderland of beautiful young things in tennis outfits. If it's a hot day sit on the deck, grab a monogrammed parasol, order a gin garden and enjoy the view (both human and skyline). Continue the silliness with chive, chicken and mayo sandwiches for dinner… then cupcakes for dessert. Pure Melbourne.
Finish the evening with some of the artistic x-factor our cultural capital is known for with a show at Chunky Move (111 Sturt Street, Southbank). This contemporary dance company is on par with some of the best in the world and new artistic director Anouk Van Dijk is taking the already respected company to thought-provoking heights. They tour extensively, however a chance to see them perform in their home city should not be missed.
MORE: 
Meet Melbourne's Fitzroy, Carlton and Collingwood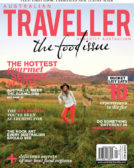 Enjoy this article?
You can find it in Issue 52 along with
loads of other great stories and tips.