Golden Dragon Museum // Experience the living history of Bendigo's Chinese heritage – a vital part of the local community since gold rush days. The museum's Chinese garment and regalia collection were recently deemed significant on an international level and its textile collection will be on show at the Professional Costume parade during Chinese New Year celebrations on 7 February. And there will be plenty more celebrations around Chinese New Year on 26 January. www.goldendragonmuseum.org
Bendigo Pottery // Australia's oldest working pottery celebrated its 150th birthday last year and issued 150 individually numbered special collector's mugs and plates to commemorate the milestone. You can also get your hands dirty with plenty of clay play activities on offer. www.bendigopottery.com.au
Mine Experience Tour // Step back in time and go underground for a deep mine shaft experience at Central Deborah Gold Mine. If you're claustrophobia free, sign up for the 2.5hrs underground adventure tour, go down deep to 85ms and have some tea in the underground crib room after much ladder climbing, drilling and searching for gold. www.central-deborah.com
Where to Shop
Bendigo has set its own standards when it comes to shopping since 1901 when it became the birthplace of Myer – back then Australia's largest retail empire. But here in Bendigo, you won't just find large department stores. Wander the streets – Bath Lane, Bull Street and Hargreaves Street are particularly popular with visitors – for some unique one-off designs to add to your wardrobe from quirky boutique stores and op-shops or browse the local markets in and around Bendigo for some fresh produce, bric-a-brac or craft pieces.
Damani Studio // Visit the local studio of Danielle Sexton. The jewellry designer who has exhibited her exquisite and eclectic pieces at Rosemount Australian Fashion Week brings together locals designers at her boutique studio. Visitors can see local artisans at work creating jewellry from scratch. Shop 4, The Bendigo Centre, 22-44 Bath Lane, (03) 5441 4154
Bob Boutique // You won't find anything mainstream in this shop in the Shamrock Hotel Building, but plenty of pill boxes, handkerchiefs, snow globes, cuckoo clock wall art, licorice soap and other pretty little bits and bobs. If you're after off-beat gifts, books, rare labels, charming accessories or quirky art, you'll find it here. 17 Williamson Street, (03) 5444 3522
Doris – Vintage and Recycled Clothing // If you're looking for something a little bit different, you'll find it at Doris'. Pre-loved clothes, vintage hats, fashionable shoes and accessories all under the one roof to update your style with the fashion of yesteryear. 238a Hargreaves Street.(03) 5443 2111
Killians Walk Fashion Recycle// Brings you more eclectic and fashionable pieces "hand-picked from great labels". They call it the Ultima Collection. 25-27 Williamson Street, (03) 5443 5022
Lulu's Shoes & Bags // Calling all fashionistas: Lulu's Shoes & Bags can't be missed as this charming store offers a wonderful range of luggage, handbags and, of course, shoes! Shop 8, 22-24 Bath Lane, (03) 5443 3444
Passion For Design // Stroll along View Street, Bendigo's art precinct, and into Passion For Design which specialises in putting that finishing touch to your home. The store offers an extensive range of local and imported handmade glassware and a large range of art, lamps and deco mirrors to give your house a style visitors will be envious of. 109 View Street. (03) 5443 6055
Milt & Joe // Children's wear label Heavenly Creatures is stocked across stores around Australia for a reason: functional and cute its clothes are like a less messy cupcake. The two designers – mothers themselves – create pieces that are simply adorable. Worth a visit even if you don't have kids. Surely there must be a tiny tot somewhere in your extended family? 374 Hargreaves Street. (03) 5444 0881.
Bridge Street Market // The farmers and arts and crafts sections of this market bring you everything from local produce through to leather cases, puddings and Tahiti-inspired jewellery. It runs every third Saturday of the month from 8am to 2pm. Bridge Street, near Golden Dragon Museum.
Where to Eat
Feel nourished and be spoilt by the tantalising dishes cooked freshly by inventive chefs – using only the best local produce of Bendigo. And you'll be able to commemorate your dining experience with collectable plates from the town's premier restaurants. It's a part of Bendigo's 'Life's A Dish' program- replicating the remarkable Buon Ricardo concept that began in Northern Italy in 1965.
Bendigo ninesvensix // Take on a different dining experience when you board Bendigo's '976' restaurant on wheels. As you dine, the beautifully refurbished 1952 Melbourne W-class tram will take you on a cruising ride along the streets of Bendigo. 5 McKenzie Street. www.exchange-bendigo.com.au/976tram
Whirrakee Restaurant // At the Whirrakee Restaurant you can enjoy contemporary dining with a French twist. For dinner, expect dishes like a twice-cooked quail to start and a meaty Sher wagyu 9 marble score porterhouse for mains. 17 View Point. www.whirrakeerestaurant.com.au
Gallery Café // For a more casual feed head to the Gallery Café. The little gem offers food with a view – diners can see the works on display in the Bendigo Art Gallery's Sculpture Gallery while eating. And keeping with the arty theme, the cafe serves its food like it's their very own plate of artwork. 42-48 View Street.
Where to Sleep
The only problem you'll have when you choose to stay in Bendigo overnight isn't whether you'll find somewhere nice, it's where you fancy staying – there are just so many choices from cheap backpacker hostels through to luxurious mansions.
Hotel Shamrock // Still looking stunning as ever, the Victorian style hotel offers a luxury stay with a modern touch. Prepare to be spoilt when you stay here, regardless of whether stay in their standard rooms or grandiose one-bedroom suite. From $110 per night. Corner Pall Mall and Williamson Street. (03) 5443 0333, www.hotelshamrock.com.au.
Hunter House // This recently restored mansion is all about classic and elegant charm. Offering up to six different suites, all with modern en-suites. Hunter House is within walking distance to Bendigo's nightlife, shops and restaurants. From $135 per night. 57 Queen Street. (03) 5442 2466. www.hunterhouse.com.au
Langley Hall // What was previously an Anglican Archbishop's home is now an utterly private and stately bed and breakfast. Each room has its own en-suite and private facilities turning this B&B into something of a boutique hotel. If you're travelling by yourself, check out the billiard room, parlour and drawing room. From $120 per night. 484 Napier Street. (03) 5443 3693.
Where to Go Nearby
If you have plenty of time to kill and want a change of scene on your trip to Bendigo, take a day out and head to some of its neighbouring towns worth checking out.
Ballarat // Don't miss the rare occasion to see some never-before-seen photos of The Beatles' John Lennon. This one-off Australian exhibition will be held at the Art Gallery of Ballart. John Lennon – Imagine will run from February 21 through to April 13.
Castlemaine // This event which is held only every second year is also the country's most popular regional art festival – the 2009 Castlemaine State Festival. Under the theme The Art of Making: Invention and Artisanship, it won't only feature visual arts but also poetry readings and performing arts and circus. www.castlemainefestival.com.au
Events Not to Miss
Bendigo Easter Festival // It's the longest running community festival in Australia and for more than 140 years it has been a celebration of the Town's Chinese heritage with Loong and Sun Loong Dragons. www.bendigoeasterfestival.org.au
Thinking about visiting Bendigo or you'd just like more details, head to www.bendigotourism.com or call 1800 813 153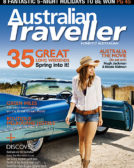 Enjoy this article?
You can find it in Issue 23 along with
loads of other great stories and tips.