The nine ten Family Hotels in Australia
Best Family Hotel
Holidaying with the kids in tow can be utterly testing, or the time of your life. If so much depends on where you stay, check these out before you make your next booking.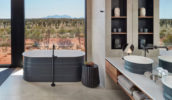 1. Paradise Resort Gold Coast
where: Gold Coast, Qld
star rating: 3
phone: (07) 5579 4444 website: www.paradiseresort.com.au
rack rate: $220 AT rate: $156
best for: Letting the little ones run riot. The youngest child to ever attend childcare here was just one day old: mum gave birth while having a last pre-baby holiday!
The success of Paradise Resort Gold Coast is built on a simple yet elegant premise: if the kids are happy, everyone's happy. With that firmly in mind, designers of this sensory overload of a holiday spot simply took a gigantic toy sack and upended it over a tropical five-acre property two blocks from Surfers Paradise beach and an hour and a bit from Brisbane airport – with stunning results. Pools, waterslides, swimming lagoon, climbing wall, tennis courts, painting rooms, treehouses, playgrounds, trivia nights, karaoke, a million-dollar theme park for kids aged five to 12 (visited by an average of 21,900 kids each year), a childcare facility for toddlers and a gigantic gecko named Gizmo running around routinely terrorising and entertaining everything in sight.
Another popular aspect: the Junior Bunkhouse lodgings. Brightly coloured bunk beds, TVs with headphones, PlayStations (essential), chalkboards, free use of DVDs and games – although technically in Surfers Paradise, it really is a kids' paradise of the highest order.
Incidentally, the furthest "world" from the resort is Dreamworld, at only about 17km. But there hardly seems any need to budge from this capital-f-for-Fun zone. A final word of warning, though: your kids may never want to leave.
2. Couran Cove Island Resort
where: Gold Coast, Qld star rating: 4
phone: (07) 5509 3000 website: www.couran-cove.com.au
rack rate: $305 AT rate: $281
best for: The eco-conscious traveller hoping to pass the idea on to the next generation.
Kites Kids Club at Couran Cove offers kids all sorts of adventures, including their very own mini Olympics. Not that the big kids have to miss out – this world-renowned eco-resort offers a massive sports centre, fishing and eco-tours, sailing and jet skis to keep the whole family busy.
3. Daydream Island Resort and Spa
where: Whitsundays, Qld
star rating: 4.5
phone: 1800 075 040 website: www.daydreamisland.com
rack rate: $400 AT rate: *$400
best for: A completely family oriented island, from ages six months to teens.
It's easy to keep your eyes on the stars at Daydream. Not only does it have its very own outdoor cinema but its reefs are home to hundreds of clownfish, so the whole family can help find Nemo. And while parents hide out in Gilligan's bar, the Skipper Kids' Club will take care of the rugrats.
4. Sea World Nara Resort
Also scored third place in Best Resort, and fifth place in Best Hotel category.
5. Rydges Capricorn Resort
where: Yeppoon, Qld
star rating: 4
phone: (07) 4925 2525
rack rate: $270 AT rate: $150 best for: Its free Kids' Club!
Besides the children's playground and waterslide, this coral reef getaway has 25 recreational facilities to help fill your family's day. Golf fans can choose between two excellent international courses, while those not so interested in the greens can take to the beach for fishing, horse riding or a shore-run in a zippy Sand Sailer.
6. Novotel Twin Waters Resort
Also scored fourth place in Best Resort category, and seventh in Best Hotel category.
7. Club Crocodile Long Island Resort
where: Whitsundays, Qld star rating: 3.5
phone: (07) 4946 9400 website: http://www.clubcroc.com.au/
rack rate: $318 AT rate: $281
best for: When the kids aren't looking, take advantage of the swim-up bar.
Every parent must one day face their mortal enemy in the water . . . yes, Club Croc has Pedal Boats. Lucky for you, the Kids' Club oversees your offspring for free, so tell the nippers you'll catch up with them later on the mini-golf course, and you may just get out of it. This time.
8. Holiday Inn Surfers Paradise Hotel
where: Gold Coast, Qld star rating: 4.5
phone: (07) 5579 1000 website: www.holidayinn.com.au
rack rate: $300 AT rate: $169 best for: Location, location, location.
Metres from the beach and minutes from the bustle of Cavill Avenue, the Holiday Inn Surfers Paradise will provide your family with an exciting Surfers experience. Members of the family under 12 eat free here – although be wary of filling them up before packing them into a roller coaster at the nearby theme parks.
9. Lakes Cairns Resort & Spa
where: Cairns, Qld star rating: 4.5
phone: (07) 4053 9400 website: www.thelakescairns.com.au
rack rate: $220 AT rate: $149
best for: Fantastic tropical experience, wonderfully large rooms, restaurant extremely reasonably priced, staff expert in the area's offerings.
The Mudskippers Kids' Club at the Lakes will keep little ones entertained with excursions, games in their very own activities centre and the ultimate PlayStation Challenge. The resort also offers a family package that includes a week of accommodation; a day trip to Kuranda and a reef cruise out to Green Island.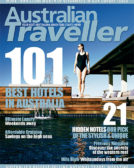 Enjoy this article?
You can find it in Issue 9 along with
loads of other great stories and tips.