Queensland's ever changing landscape see's the state as a firm favourite among holiday goers, read on to discover the Aussie travel secrets Queensland.
Ever-popular SURFERS PARADISE has much more to offer than its ubiquitous theme parks: seek out the natural swimming oasis of CURRUMBIN ROCK POOL; head to TAMBORINE MOUNTAIN in the hinterland with its spectacular hikes and quaint village; and stop at TALLEBUDGERA CREEK, which hides a secluded beach.
Head to the lookout at TONGUE POINT in the WHITSUNDAY ISLANDS for the most breathtaking views of HILL INLET, where the ocean tide manipulates the sand and water into mesmerising patterns and colours.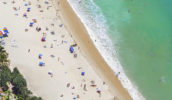 The STORY BRIDGE CLIMB in Brisbane offers those with a head for heights the chance to see the city from above. It is one of only three bridge climbs in the world; Auckland Harbour Bridge and the Sydney Harbour Bridge being the others.
It's no secret the GREAT BARRIER REEF is suffering at the hands of development and climate change, but we can all help: there are a number of citizen science programs designed to understand and enhance reef health, including Reef Blitz, an annual event that takes a snapshot of catchment and reef health, and enacts practical actions to help look after Queensland's reefs.
There can't be a more inspiring and important cultural event than Cape York's Laura dance festival; worth roughing it for 10 times over – Steve Madgwick, web editor
Boulia
Our little secret: Where Boulia stands today wasonce part of the huge inland Eromanga Sea.
SEE AUTHENTIC BONES of plesiosaurs and ichthyosaurs discovered in the area at Boulia Marine Reptile Display. Dating back at least 110 million years, the bones have all been dug up and restored in Boulia; none are replicas.
Boulia is also known as the Land of the Min Min Lights: mysterious eerie balls of light that can follow a traveller for miles and then just disappear. Many sightings have been reported but science still cannot explain what they are. The Min Min Encounter and Boulia Visitor Information Centre is a must-visit. You will be treated to a world-class 45-minute animatronic show featuring robotic people telling their stories of meeting the Min Min Lights in different settings.
Boulia is experiencing a construction boom at present with projects being funded by the Work for Queensland scheme. This has resulted in a skate park, water bubbler park, refurbished hall, refurbished children's playground, shade at the public swimming pool and other infrastructure projects to do with sewage and water. Come to Boulia and you'll see all of this, and meet many local characters who love nothing better than a good yarn.
FOR AT READERS: Head to our website to find out about the exciting events happening this year!
PHONE 07 4746 3188 | WEB boulia.qld.gov.au
Back Country Bliss
Our little secret: We are located in the oldest rainforest in the world.
EXPLORE FAR NORTH Queensland's ancient rainforests with Back Country Bliss Adventures. Australia's only River Drift Snorkelling adventure will have you stepping into a cool, crystal-clear river surrounded by lush tropical rainforest. Drift with the current as you explore life under the water's surface; watch fish dart in and around the river stones and keep your eyes out for turtles.
Join our Daintree Adventure Day which takes you on a zip-line high up into the canopy, swinging through the trees with Jungle Surfing Canopy Tours. Search for crocodiles on a wildlife cruise, swim in safe, crystal-clear creeks, and eat rainforest flavoured ice-cream! Alternatively, get active on a bush walk through hidden valleys on the hunt for waterfalls, and swimming holes.
Our Eco-adventure company is based in magnificent Port Douglas, Queensland. Back Country Bliss will help you experience the hidden wonders of Far North Queensland.
FOR AT READERS: Use code LITTLEBLACKBOOK for a 5% discount when booking online.
PHONE 07 4099 3677 | WEB backcountrybliss.com.au
Paronella Park
Our little secret: We have a Spanish castle, completewith waterfall, hidden in the rainforest.
TUCKED AWAY in the rainforests of Far North Queensland, is one man's dream brought to life.
With castles, bridges, tunnels, waterfalls, and more than 7000 plants and trees, this five-hectare property is an enchanting place to explore.
Entertaining guides take you on a tour of the grounds and tell you the tale of the weird and wonderful Paronella Park.
After moving to Australia and slowly amassing his fortune, a Spaniard named Jose Paronella had been exploring the region, trying to find somewhere to build his dream – a castle in the rainforest.
After seeing thundering Mena Falls, he was inspired to build the property on the base of the falls.
He set about building his castle by hand, with picnic areas, little bridges and tunnels throughout the whole property.
It truly is something that must be seen in person, with details such as Jose's fingerprints clearly visible on the castle walls, bringing the story that the guides tell to life. Jose Paronella's dream, and Paronella Park, is something that will stay with you.
FOR AT READERS: Mention Australian Traveller to receive your free biography of Jose Paronella.
PHONE 07 4065 0000 | WEB paronellapark.com.au
Alure Stanthorpe
Our little secret: Australia's most luxurious glamping tent.
THIS INCREDIBLE hideaway in the Granite Belt has been hailed as the home of Australia's most luxurious glamping tent.
Alure Stanthorpe's fully insulated, environmentally friendly African safari tent boasts lavish interiors by Brisbane designer, John Glynn. It comes with a four-poster bed, eco-fireplace and reverse-cycle air conditioning, full kitchen with European appliances, and a spacious en suite with dual sinks, illuminated Hansa Clear Lux Duo shower system and heated towel rails. Watch your favourite Netflix show or take a soak under the Milky Way in a private (except for the friendly wildlife) heated outdoor spa.
The other thing about Alure Stanthorpe is that it has a luxury pet-friendly villa. If your much-loved pet has been dreaming of a luxury getaway with their very own bathrobe, cocoon bed, and a gift bag of toiletries and gourmet treats, then Alure Stanthorpe offers the perfect accommodation for you.
FOR AT READERS: Quote 'SECRETS' for a 10% discount on accommodation in a spa villa / glamping tent, a 'Tastes of the Granite Belt' continental breakfast, a bottle of wine and a guide to our Secret Places to Visit.
PHONE 07 4681 4476 | WEB alurestanthorpe.com.au
Lizard Island
Our little secret: Twenty-four private beaches located directly on the Great Barrier Reef.
LIZARD ISLAND IS the northern-most resort on the Great Barrier Reef and is perfect for those seeking an experience like no other. With only 40 luxury rooms and suites on the island, some with their own private plunge pools, seclusion and intimacy can be assured.
After visiting Lizard Island, everyone remembers the vibrancy of the reef. Lizard Island is home to some of the world's most incredible dive sites such as the Cod Hole and the beautifully colourful clam gardens are only a step off the beach.
A stay on Lizard Island is all-inclusive – from your own personal dinghy, stand-up paddleboard, clear view sea kayak and snorkelling gear, to daily gourmet food and fine Australian wine.
Those looking to indulge may unwind with a spa treatment, or enjoy a romantic seven course degustation dinner with matched wines in a pavilion on the beach.
FOR AT READERS: Stay a little longerand fly free. lizardisland.com.au/freeflights
PHONE 1800 837 204 | WEB lizardisland.com.au