Peter Russell-Clarke heads up to Queensland's lush Cassowary Coast to check out why it's the perfect place to celebrate tropical fruit – and plans the perfect exotic menu.
The Cassowary Coast's exotic Feast of the Senses festival doesn't set out to rival Rio's Mardi Gras, nor is it a Bacchanalian love-in at some modern-day Sodom and Gomorrah. No sir, it's a festival of the exotic fruit produced in the subtropical region around Innisfail and Mission Beach.
The Cassowary Coast is named after the similarly exotic flightless bird, which is a threatened species. Shy and hard to spot in the wild, cassowaries resemble emus except they're prettier. Instead of sooty grey, these giant birds – descended from the dinosaurs – have a neon blue neck and white face topped with a scarlet wattle. All that is highlighted with jet-black body feathers. These attractive creatures roam free through the lush rainforests as well as strut their stuff along the highways and byways.
Mission Beach stares across the Coral Sea to Dunk Island and other rainforest islands just offshore. Innisfail, just south of Cairns, sits comfortably beside the North and South Johnstone Rivers. Its halo of rugged mountain peaks ring the swathes of sugar cane and banana plantations which luxuriate in this wonderful climate.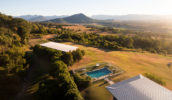 Produce abounds in the farms in this region of God's huge acreage. Australia's only pepper farm proudly produces what once tempted brave traders on sailing ships to cross the unknown oceans of the world – and pirates to prey on them. Gosh, dear reader, Errol Flynn and Douglas Fairbanks Jnr wouldn't have had a job if it hadn't been for the pepper trade – pepper being valued more than gold in those days that made Captain Courageous risk walking the plank.
And there's the Broken Nose Vanilla farm, named after the mountain that smiles down on it. We all know vanilla made ice-cream famous, but today people like me are using it to flavour savoury foods.
I'm designing what's being heralded as a gala dinner to be held in Innisfail Council's Grand Ballroom. The focus of the seven-course meal will be the exotic subtropical fruit of the region – for instance, a jackfruit hot soup, hiding in a crisp pastry ball about the size of a tombola marble, which is popped into the diner's mouth whole to explode with soup as if by magic.
There's also smoked locally caught fish topped with small diced achacha (the banana-flavoured white-fleshed fruit) with ginger, cumin and black olives, and flaked soft licorice, yellow sapote and red pegibaye.
There's smoked fishbone soup with exotic fruit dumplings of taro, and a noisette of local pork, marinated in green tea, with a green-pepper sauce of pureed mangosteen, served with sliced dragonfruit. To follow is a small pie of paella with croutons of butter-fried breadfruit.
The dessert will be "bangers and mash" – a grilled sausage of combined exotic fruit with a gravy of pureed Davidson plums and a mash of rambutan.
The local school students will cook and serve this black-tie extravaganza. One of the prominent local exotic-fruit farmers, Peter Salleras, is helping me with the fruit from his farm as well as when and how to prepare it.
So, envious reader, here I am in paradise with a festival coming up in March, being forced to sample all sorts of exotica – both of the food and geographic kind.
One of those exotic destinations is quirky Paronella Park. Its gardens are incredibly beautiful, with waterfalls and avenues of giant kauri trees towering above palms. You meander along well-maintained pathways that cross fern-lined creeks – home to giant eels and friendly fish.
Paronella has a compelling history, too. A young Spaniard, Jose Paronella, arrived in Australia in 1913 and found work in the canefields, but soon made his fortune buying and selling farms. Eventually he bought his own land and built a Spanish-style castle beside his very own waterfall, overlooking the lagoon the falls filled.
On completion, he planned to return triumphant to his home village in Catalonia and marry his betrothed. But it took him 11 years to finish construction and, as he hadn't written to her in all that time, his girlfriend had got hitched years earlier.
Not to be beaten, he married her sister instead, and returned with her to his castle with its ballroom, theatre, fountains and other fandangles.
It was this crazy but beguiling Spanish dreamer who inspired me to make a Paronella paella pie – the paella for the Spanish side of the story and the pie for the Aussie component. Maybe the Paronella Park people will put it on their menu. After all, north Queensland is full of surprises.
Innisfail itself is one of them, with absolutely fascinating architecture. It's a city of authentic Art Deco buildings, both in style and vibrant colour, lovingly restored after cyclones Larry and Yasi.
And, as long as there isn't another cyclone, the exotic fruit festival will occupy the streets of this exotic town. I'll certainly be pumping up my bike tyres and heading north again and, while I'm there, I'll do a bit of fishing at Flying Fish Point. But if my inlander's fumbling fingers don't hook the hookable, there's always the fish café on the beach.
Note:
The Feast of the Senses runs from March 16-25, 2012, in the Innisfail region, Far North Queensland. feastofthesenses.com.au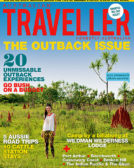 Enjoy this article?
You can find it in Issue 43 along with
loads of other great stories and tips.