Settled by Scots borne by the SS Fortitude in the mid-1800s, Brisbane's Fortitude Valley has been a commercial hub, a red-light district, a ghost town, and now a hip and stylish place to be seen.
Local gal Tiana Templeman takes us on a stroll through the ever-changing central Brisbane precinct.
It's Saturday night in Brisbane's Fortitude Valley and things are hotting up. The staccato click of high heels mingles with cool jazz from a nearby club and the sounds of people having fun fills the air. Fashionistas mix it up with those wearing t-shirts and jeans, and there's no cut-off age limit for enjoying a night out.
"The Valley", as it's affectionately known, has an edgy excitement all its own – and some of the best shopping, drinking and dining in Brisbane. But it wasn't always this way.
In 1949, on the centenary of its founding, local retailers boasted that Fortitude Valley was "one of the greatest commercial centres in Queensland." A few decades later the historic precinct had gone to seed, earning a dubious reputation as a red-light district and criminal haven.
When I was growing up in the area, the Valley was so rough that even walking around in broad daylight was considered dangerous. Twenty years ago you wouldn't have been seen dead here. Or then again, maybe you would have.
Fast-forward to a multibillion-dollar urban renewal project launched in the mid-1990s and Fortitude Valley is once again a stylish hub. With sassy fashion and funky, original jewellery and homewares, excellent restaurants, ambient bars and hip lodgings, there's never been a better time to check-in and check it out.
Where to sleep
There may not be much choice when it comes to accommodation, but at least it's all interesting.
Emporium Hotel
Emporium Hotel was the first to open here and personifies the changing face of the Valley, with 106 studio suites and a muted colour scheme that is pure urban chic. It's warm and sophisticated without trying too hard – and that goes for the staff too.
Each suite has a kitchenette for self-caterers, but superb room service from La Belle Époque, a romantic Parisian-style bistro next door, ensures that most guests order in.
Limes Hotel
Up the road and tucked down a side street is Limes Hotel with 21 rooms that have much in common with a sophisticated New York pad (ie, very small and very trendy).
There's complimentary Voss mineral water in the mini-bar along with an impressive selection of T2 teas. Courtyard rooms, which come with a brightly coloured hammock, are worth the extra spend.
BUNK Brisbane
Last, but certainly not least, is BUNK Brisbane. Staying at a Flashpackers isn't for everyone but this is one of the best, especially when it comes to location. Most guests like to head home early after a night out (around 3am) and favour dormitory digs, but private rooms and apartments are also available.
Families with little party people are welcome to stay here in a private room.
Where to eat
Home to many exciting restaurants and Brisbane's Chinatown, Fortitude Valley has a number of good Cantonese kitchens. One of the best is King of Kings Seafood Restaurant, which serves yum cha in a suitably clamorous atmosphere.
Down the road but a world away is The Buffalo Club – the latest darling of the Brisbane dining scene – a beautiful restaurant that's much more than just a pretty face. Don't let the strange name fool you. This elegant eatery with a rising reputation serves multi-course degustation and is near impossible to get into for good reason.
A more formal Gallic experience can be found at La Belle Époque, where the entire staff is predominantly French and the kitchen turns out such iconic dishes as cassoulet and duck à l'orange. Head across to Freestyle Tout afterwards for a decadent dessert or towering ice-cream sundae (order one per person at your peril). Seating is sometimes at a premium but these sweet treats are worth the wait.
Retail therapy
In the heart of it all are the Brunswick Street and Chinatown pedestrian malls, which run parallel to each other and host the Valley Markets each Saturday and Sunday from 8am. Sarah-Jane Clarke and Heidi Middleton began selling clothes here before launching their internationally acclaimed label Sass & Bide, so it's fitting that their beautiful flagship store is located just down the road.
Nearby, Dogstar specialises in asymmetrical cuts and Japanese-inspired fabric; bright polyester-resin serving spoons by Dinosaur Designs travel well and make wonderful gifts. Back at Emporium, Jean Brown is filled with shoes and accessories from the likes of Jimmy Choo, Cristóbal Balenciaga and Alexander McQueen.
It also showcases a rotating exhibit of one of the world's most significant collections of antique and vintage handbags (well worth a look even if you cannot afford to buy).
Art and about
Apart from Brisbane's Institute of Modern Art, Fortitude Valley also has several good private art spaces.
Among them are Philip Bacon Galleries, which showcases prominent Australian artists such as Jeffrey Smart and Margaret Olley, and Fireworks Gallery with its beautifully curated exhibitions of Indigenous and non-Indigenous works displayed alongside each other.
On the town
It's an easy walk from one bar to the next in Fortitude Valley, which makes it ideal for a night on the town.
Cloudland
Cloudland has everybody talking, despite (or perhaps because of) the fact that it's almost impossible to describe. Imagine Alice stumbling down a rabbit hole, smoking the Caterpillar's hookah pipe, then spending millions to create a Nightclub Wonderland.
Just inside the door is a three-storey atrium dominated by a 10m internal waterfall and surrounded by more than 5000 plants growing from the wall. Cocktails are served at a solid hand-carved white marble bar and the whole venue is bathed in avant-garde lighting.
There's also a restaurant on a raised platform, which offers superb people watching opportunities along with chic café-style meals. Upstairs is another bar made from 17,000 hand-threaded glass balls and surrounded by intimate-themed booths that can be booked for private soirees. Love it or loathe it, Cloudland is a must-visit.
The Bowery
The Bowery, a laid-back den with wooden booths, exposed brick walls and live jazz tunes, is old-school cool and caters for a 25-plus crowd.
The Press Club
Around the corner at The Press Club you'll find soft leather lounges and an air of sultry sophistication. Dress to impress, particularly on Friday and Saturday nights, when a strict dress code is enforced, or you may end up watching the fun from outside.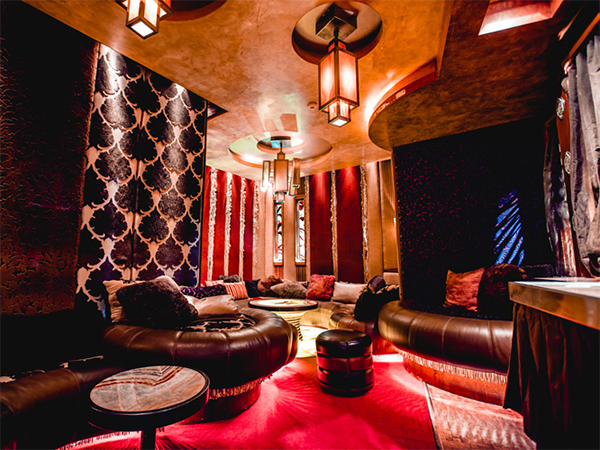 X&Y bar
Anyone who enjoys a good cocktail or remembers the Valley of old will get a kick out of x&y bar, housed in a building that was once owned by the notorious Bellino family.
There's no dress code at x&y and the funky industrial fit-out suits the venue and its sense of history. Check out the old bricked-over escape hole in the back courtyard, once used by patrons to make a quick escape during licensing raids. These days, no-one is in a hurry to leave.