4. Sneak into the Lion's den
About 30 kilometres south of Cooktown stands one of Australia's most recognised pubs, the Lions Den Hotel. Built in 1875 on the banks of the Little Annan River, you'll be greeted by the pub's lion statue and century-old mango trees. However its real claim to fame is inside, where there's a quirky collection of bottled snakes, walls signed by guests, cattle skulls and a mishmash of articles left behind by patrons. Ah, only in regional Australia. There's also a great menu that's served in plate-filling portions. Indulge in one too many beers? There's a campground at the rear by the river with safari-style lodges. While there, take a quick detour to Black Mountain National Park (five kilometres north), home to a bizarre heap of large black rocks, said to spontaneously combust on occasion, when rain hits their hot surface.
5. Step back to the first meeting
James Cook Museum covers Cooktown's rich past: Cook's arrival, the once-flourishing gold mining industry and its role as a base for Aussie and US troops during WWII. But most interesting is Cook's first meeting with Indigenous people. The story goes Cook arrived on a strip of land deigned neutral territory by local clans. The crew stayed for weeks repairing their ship, while Cook and his team of naturalists spent time with the Guugu Yimithirr people, recording their language (including the word 'gangurru', wrongly noted as 'kangaroo'). Conflict only ensued when the crew refused to share turtle meat with the clan. But not for long – spears were soon laid down due to the neutral ground. A plaque at Reconciliation Rocks commemorates this moment.
6. See thousands of years of history in a day
You can see one of Australia's most significant archaeological sites, the Quinkan art galleries, about 140 kilometres west of Cooktown near the township of Laura. This dramatic collection of rock art is thought to be up to 30,000 years old, and has been listed by UNESCO as one of the top 10 rock art sites in the world. The well-preserved paintings reveal stories from the traditional land owners, featuring local spirits as well as nearby food sources. Take a guide with you, though – they have some fascinating information to share, and the sites themselves can be in some pretty precarious places; hiding amongst the local scrub and under sandstone boulders. Tours run between late March and early December and must be booked in advance.
7. Get away from it all
Heading north again, make time to spend a few days camping in one of Queensland's largest parks – Lakefield (also known as Rinyirru) National Park. There are many postcard-perfect riverside spots to pitch a tent (must be booked ahead online, over phone or at a booking office), as well as some impressive scenery to take in, varying from wetlands, mudflats and coastal estuaries, through to grasslands and sandstone escarpments. These varied waterways are home to an abundance of birdlife, especially at White Lily Lagoon and Low Lake. There's also plenty of places to cast a reel in with recreational fishing allowed at all camping areas. Barramundi and catfish are your most likely catches, but do be aware of crocs in certain signposted areas.
8. Cast a reel in
On the western side of the cape, surrounding the bauxite mining town of Weipa, is a haven for fish and fishing enthusiasts alike. From Spanish mackerel and barramundi to coral trout and giant trevally, it's hard to walk away empty handed, especially at Red and Pennefather beaches. First-timers can book a tour with a local operator. If you don't feel like camping while in the area, drive down to Merluna Station for a night (yes, 120 kilometres south-east is considered local), situated on a 416,000-acre cattle station. There's a range of air-conditioned room types (including a shaded campground), all within walking distance to lagoons, creeks and pockets of rainforest. Along with your usual farmyard locals – cattle, horses and chooks – you might see grazing wallabies, flocks of migrating birds, and sunbaking lizards.
9. Refresh with a dip at the waterfalls
No Cape York adventure would be complete without a visit to Fruitbat Falls on Eliot Creek – a vast wall of clear, flowing water. Visuals aside, it's also a popular pitstop because it's one of very few waterholes towards the tip that travellers can actually swim in (pesky crocs!). It's welcome relief after what can be a long and dusty journey. Better still, it's easily accessed being just off the Southern Bypass Road (or for 4WD enthusiasts, you can also get there along the Telegraph Road from Bramwell Junction). But if it's too crowded here for your liking, there's also Eliot and Twin Falls just down the road, where camping is also allowed. Eliot Falls also has several walking tracks if you want to explore the area.
10. Lap up luxury on Lizard Island
Admittedly, it's pretty hard to get here by car, but it'd be remiss of us not to feature this internationally-renowned resort for your dream itinerary to the tip. We suggest you make it a post-tip detour, taking the 60-minute scenic flight there from Cairns(which covers 240 kilometres). The island itself is predominately national park aside from the resort, which means it's just you, powder-white beaches, five-star eating and 40 uber-luxurious villas. Unsurprisingly, Lizard Island has earned its fair share of hotel awards from around the globe – consistently ranking as one of the world's best resorts in 'top lists'. And with the Great Barrier Reef at your finger tips, days can be filled with snorkelling, diving and boating. Or simply loll about on the beach after a lush spa treatment. Whoever said a trip to the tip wasn't momentous?
The Details
Flights
If you're against the clock, Skytrans Airways fly from Cairns to Cooktown four times daily. They also fly to and from Coen, Lockhart River and Bamaga, among other destinations en route to the tip.
Tours
There are only a couple of tour operators that will take you from end-to-end of the peninsula. Among them is D'Arcy of Daintree 4WD Tours, Cape York Tours and Oz Tours, which offer various tours covering land, sea and air ranging from five to 16-day itineraries.
Driving
Cairns to Cooktown:
The 4WD Coastal route runs via Cape Tribulation, the Daintree Rainforest and the Bloomfield Track to Cooktown. The Inland  route runs via the fully sealed Mulligan Highway. There are several lookouts with vistas of lush valleys. Beware of wildlife and livestock as some sections are unfenced.
Cooktown to the tip:
This route is suitable for 4WDs only. There are two main tracks from here; one is the Development Road and the other is the Telegraph Line – the latter starts after Bramwell Junction and is an iconic drive for hardcore 4WD enthusiasts. It's only 110 kilometres long but takes at least one full day to complete, including several creek crossings.
If hiring a car, check you're allowed to drive on dirt roads before booking – many operators won't allow it.
Sailing (If you're really keen)
Check out Sea Swift – a cargo ship that services the far north and allows travellers to cruise onboard between Cairns and Bamaga. You can also put your vehicle onboard so you can drive one way and sail the other.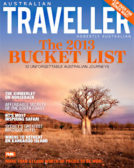 Enjoy this article?
You can find it in Issue 53 along with
loads of other great stories and tips.