Rebecca Taylor returns to her childhood holiday destination and finds Rainbow Bay, QLD, still hasn't lost its charm. After recently graduating from a photojournalism degree, Rebecca Taylor took her skills to her childhood holiday destination at Rainbow Bay, nestled on the Southern end of the Gold Coast, just past Greenmount Beach.
"[This area] holds a special place in my mind because my family and I have been going there ever since we were young. We went there again over Easter and I just let myself loose with my camera.
Through these photos, I wanted to convey the natural beauty of the bay, which is essentially what I love about the place.
To me, it's the epitome of Aussie beach culture and a big part of why I love living on the coast.
My general rule of thumb when taking photos is to pay attention to composition and think creatively when it comes to perspective. The other side of it is to anticipate shots and be ready to capture them. It can make all the difference!"
– Rebecca Taylor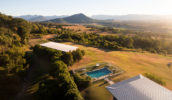 // Rebecca Taylor
is a member of our Virtual Internship Program. If you're a photographer or writer looking to break into travel journalism, we're here to help you get a leg up. To find out more, email us at interns@australiantraveller.com