So you have had enough of lying on the beach and the pamperfest? Time to man (and woman) Whitsundays action stations. (By Alissa Jenkins)
1.  Swim through an underwater wonderland
No Whitsundays escape would be complete without a day trip out to the Great Barrier Reef for a snorkel or scuba dive. World renowned for its unparalleled coral and sea life, it's home to over 1600 fish species, 200 birds, 30 whales and dolphins, six of the world's seven marine turtles and one of the most significant dugong populations on the planet. Adding to the appeal is the region's iconic clear water, with clarity as far as 30 metres deep. Better still, there are a litany of operators in the region that offer full certificate diving lessons and tours for first-timers, through to overnight explorations of the outer reef. See tourismwhitsundays.com.au
2. Learn to sail
Whether you're a seasoned sailor or a first-timer, sailing is one of the more glamorous ways to experience the region. There are plenty of operators around to help you learn the ropes such as Sunsail Whitsundays Sailing School on Hamilton Island and Learn to Sail Whitsundays at Airlie Beach, which both offer courses from beginners to  experienced. Once mastered, hire a boat and skipper yourself or compete in the Wednesday Night Twilight Social Races across Pioneer Bay. It's a relaxed weekly event and is open to anyone who wants to experience yacht racing or become part of the regular crew – no experience is necessary. For those who are yachtless and crewless, just arrive at the Whitsundays Sailing Club by 3pm and staff will help find a ride on one of the boats. There is no charge for racing – just take whatever you want to drink (beers acceptable).
3. Skydive onto the beach
This is the ultimate adrenalin rush and few skydives are as spectacular as Skydive Airlie Beach, taking in views across the islands as you fall up to 14,000 feet. Photos and a video of the big leap are available for purchase. Pencil this one in for your next big birthday. From $249 per person.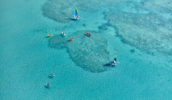 4. Ready, jet, go
The Whitsundays is synonymous with water sports, and there's no shortage of activities to try from jet boats to jetpacks. For jet skiing, check out Whitsunday Jet Ski Tours in Airlie Beach. Provided your own jet ski, there are two tours to choose from – the 'Airlie Adventure' in the morning, which guarantees sea turtle sightings, and the 'Daydream Extreme' in the afternoon, which takes you to Daydream Island. Another favourite is parasailing, and Island Parasail run tours in Airlie Beach, Daydream Island and Long Island. Or for something new, Jetpack Adventures have recently launched in Airlie Beach for an airborne ride across the water (see page 10 for more information).
5. Be a bikie for the day
Unleash your inner speed demon. Hamilton Island resort hires quad bikes that you can ride along the island's scenic trail, through lush bushland to mountain-top lookouts. Or for couples, there's two-seat all terrain vehicles (ATV). The 45-minute tours depart daily and cost from $109 per person for a quad bike, or $129 for an ATV ($21 extra to take a passenger).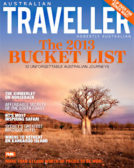 Enjoy this article?
You can find it in Issue 53 along with
loads of other great stories and tips.