Alright, alright, so it doesn't have the prettiest sounding name (well that's our humble opinion, anyway) but we think you'll agree, after reading this, that the food, the folk and the very fine scenery in Mudgee more than make up for any minor quibble you face over its moniker. Isn't it funny, though, how a name can have such influence? If only more people knew that, when the Wiradjuri people named this place, they literally meant 'nest in the hills'*. Now that is an apt name. Farmers, viticulturalists and very lucky locals have lived here for centuries, but over the past two decades this gorgeous little nook, four hours' drive fromSydneyin the central west of NSW, has become a preferred hideaway of tree changers and reformed urbanites, too. And, of course, we all know what happens when you mix wholesome country produce with hipster-slick café culture… take it from us, these 10 gourmet experiences are just the beginning.
1. Roth's Wine Bar
When your waitress tells you she wishes the shiraz cabernet she's serving you was part of her blood stream, you know it's going to be good (and that she's certainly passionate about her job!). The drop in question is the Mudgee Blue Shiraz Cabernet 2011 cellared at Roth's Wine Bar, which has been serving up delicious local wines since 1923. Prior to being licensed it was a general store, and story has it that there was an 'under-the-counter' business operating, serving beverages to farmers who travelled far and wide for a taste of the special concotions including 1080, Lucijet and Diesel, which are still made with a secret recipe and served here today. This watering hole is a local favourite, with a menu consisting of over 80 per cent local wines to savour with the delish wood-fired pizza and tapas.30 Market Street, Mudgee; 02 6372 1222.
2. 29 Nine 99
An Australian boy goes backpacking in China, meets a Chinese girl in Xian and, despite not knowing each other's mother tongue, they fall in love. She moves across the world to little ol' Rylstone (45 minutes south-east of Mudgee) and they start up local yum cha restaurant 29 Nine 99, named after the day they were wed. (Aww.) Who doesn't love a good love story? Or a good dumpling for that matter. The cute couple, Na Lan and Reg, bring Beijing to the bush with their delicious handmade dumplings, which are so good, customers come from Orange, Dubbo, Narromine, and even Wellington for them. One character jets in on his private plane from Sydney just to take home an esky full of them. The restaurant itself is a riot of colour with gorgeous styling (a nod back to Na Lan's previous life as an artist, no doubt) with adorable knick knacks also up for sale. Louee Street, Rylstone; 02 6379 1984.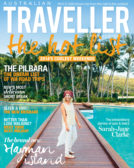 Enjoy this article?
You can find it in Issue 58 along with
loads of other great stories and tips.