Local this, seasonal that, blah blah blah. If you've ever needed convincing about just how good local food can be, lunch at the home of a top chef will do it, says Stephanie Clifford-Smith
Is there anything more likely to get the heart going than the news that you have a chef coming for lunch? Well, we can confirm that the same effect occurs upon discovering that it is you who is going for lunch at their house; though the pulse races for happier reasons. Such happenings took place recently, when Martin Boetz, former executive chef at Longrain Sydney and Melbourne, announced that he would open his home for occasional long, lazy lunches among friends.
Having recently relocated – to a farm where he grows produce for friends (aka, the chefs of Sydney) – there couldn't be a more perfectly picturesque setting for an indulgent, Masterchef-worthy meal. And all just 90 minutes from old Sydney-town.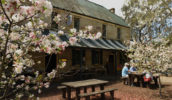 Black Chook Sparkling Shiraz
The hum of conversation and a clink of glasses can be heard upon arrival to Martin's house on the Hawkesbury River; the waterway provides a sparkling welcome. The house-cum-pop-up restaurant is an attractive Californian bungalow with a deep verandah, providing the ideal spot for a pre-lunch drink, looking out to the farm.
Martin purchased this property in 2011, with the idea that he'd grow produce specifically for chefs. With a heritage like Longrain (of which he supplies), it's no surprise there's a strong Asian influence to his burgeoning crops, although there are also four varieties of beans, potatoes, cavolo nero, peppers and an orange orchard. He's not growing anything other farmers don't, but he believes he has an edge.
"It's all about freshness," he says, sparkling shiraz in hand. "Restaurants buy from me because they have their orders delivered within 24 hours of picking."
Of course, we're getting fresher than even that, today. The fruity bubbles work famously with the crostini; a quince relish-topped pork liver pâté; guests mingle like old friends. In fact, it feels like lunch at a friend's place, except for the two incredibly talented chefs in attendance. Yes, two. For these lunches, Martin has enlisted old friend Alex Herbert, of Sydney restaurant Bird Cow Fish fame, to help in the kitchen. The pair worked together at Bird Cow Fish in 1995, he says, and these lunches gave them an excuse to team up again. They've been cooking for days for this event, and the toasted sourdough for the crostini show Alex's skill as a baker.
Smoked trout and celeriac remoulade
Long tables have been set in the open-plan living area and chairs have been draped in deer skins, adding warmth and style to the already charming white rooms with their dark wood fretwork and joinery. There is no alcohol licence here – it is Martin's home, after all – so guests have been instructed to bring their own wine, which waits in ice buckets or, in the case of reds, lined up along window sills. Each place is set with a numbered lino print by a friend of Alex's, artist Tanya Binggeli, which doubles as a handwritten menu and souvenir. On that sits the first course, a glass tumbler filled with a creamy tangy tangle of julienned celeriac and generous flakes of smoked trout.
Pork braised in milk with sage, lemon and garlic
Aside from offering an opportunity to showcase his produce, having these lunches here provides an intimate, more personalised experience than what's on offer in a restaurant, Martin explains. He and Alex pop in to explain each course, always looking remarkably calm and appearing to be having as much fun as the rest of us (and the wine is flowing freely by now). Invariably the farmers behind the produce are mentioned by name and some of them, including Matt and Sue Simmons from Melanda Park Free Range Pork, are here as guests.
Delectable smells waft in just ahead of platters groaning with tender braised meats, be it the caramelised curdy pork or the goat with Seville orange and rosemary. Salads of beetroot and goats cheese are passed around and forks plunge into steaming bowls of roasted Dutch cream potatoes. More of Alex's chewy sourdough is slathered with Pepe Saya butter or used to mop up meaty juices. Either way platters and bowls are manoeuvred around the table with the skill of chess champs.
Goats milk custard tarts with vanilla-poached cumquats and candied citron
A tiny cottage for two, available for holiday rentals, sits at the top of the property and is where dessert will be served today. With conviviality reaching potentially dangerous levels and girths about to burst, guests take their wine and venture up a steep and steady incline through grassland dotted with eucalypts.
Support troupes have gone up ahead, lighting a fire and setting out Tizzana vineyard dessert wine with coffee and tea, and there's a collective OMG moment when we clock the scene: a gun-barrel view straight up the river, orderly rows of trees marking the orange orchard that supplied the juice for our braised goat. Conversation is briefly replaced with awestruck silence.
But not for long. Dessert is worth talking about: exquisitely delicate pastry shells filled with custard cream, topped with Martin's home-grown vanilla-poached cumquats and a translucent ribbon of candied citron. As the sun dips lower and the sky turns pink, the fire becomes a magnet for those still lingering. Wandering back down the hill in the last of the light, there is a great sense of contentment… Though expert chefs, locally-sourced food, and this gorgeous setting is just the recipe for that.
The Details
These special lunches are occasional; check out Martin's Cooks Co-op website for upcoming dates. Also see our profile of Martin.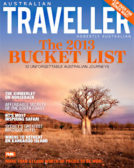 Enjoy this article?
You can find it in Issue 53 along with
loads of other great stories and tips.