It's the outback NSW mining town that may just be Bloke Heaven, but there's much more to it than big machinery and holes in the ground.
5 reasons to visit Broken Hill right now
1. The mining history, past and present
It's bizarre to see a town built around a 7km-long mullock heap, and fascinating to dig deeper – forgive the pun.
2. The art history
Legendary painter Pro Hart lived here. There are more than 30 galleries in Broken Hill, the biggest of which is the oldest (and most impressive) Regional Gallery in NSW.
3. The film history
Some of Australia's best movies were shot here – Mad Max 2, Wake in Fright, The Adventures of Priscilla, Queen of the Desert and, er, Razorback. Not all would make you want to visit!
4. The architecture
Get your fill of heritage buildings, retro homes and pubs with wide verandahs.
5. The people
You'll never meet a more passionate bunch of small business operators.
Where is it?
Broken Hill is in outback NSW, in the far mid-west of the state. It's so close to the South Australian border that the town's radio and news channels conform to Adelaide programming schedules rather than Sydney's. It's even on SA time.
How to get here
• Regional Express flies to Broken Hill from Sydney (flight time 2½ hours).
• CountryLink trains service Broken Hill. The Dubbo XPT leaves Sydney daily (Central Station via Katoomba, Dubbo and Cobar), while the Outback Explorer goes on Mondays only. CountryLink often has outback package deals (with accommodation).
• Great Southern Rail heads to Broken Hill from Adelaide.
• There are a number of scenic (and long!) self-drive routes out to Broken Hill. The most direct Sydney drive is a 16-hour epic (just over 1000km) that heads out through the Blue Mountains, with a recommended overnight stay in Dubbo (5½ hours from Sydney).
• You can drive from Adelaide via the A32 in about six hours (just over 500km).
• From Melbourne, take the Calder Highway via Mildura (just under 850km, about 10 hours).
Why is broken hill so great?
One local affectionately described Broken Hill to me as a "snow dome". It may not have the white stuff but it is a bubble of a town in the middle of nowhere. There are many things to love about Broken Hill – outback drives featuring red dirt and blue skies, the town's heritage architecture, its art, and some important Aussie history – but there's something more to it than all that, and it's hard to pin down. Without wanting to sound overly amethysts-and-rainbows about it, it just feels nice here.
Things to do in town
See some art:
Broken Hill Regional Gallery: Don't underestimate this country gallery – its permanent collection includes important works by John Olsen, Margaret Preston, Tim Storrier and Clifton Pugh. Entry by gold-coin donation. Open daily, 10am-5pm. 404-408 Argent St.
Pro Hart Gallery: Set in a suburban street, this gallery looks like a private home, but with the owner's name painted on it in big letters, and a bunch of Rolls-Royces parked out front. Inside, you'll find a three-storey gallery, Pro's studio and a film about this larrikin painter on constant loop, which gives great insight into life in the mines (Pro worked underground in the mines for many years). 108 Wyman St, Broken Hill.
Sculpture Symposium: The Living Desert Reserve is a beautiful, hilly landscape in the Barrier Ranges to the north of Broken Hill. It's home to the Sculpture Symposium and offers wildflower walks and panoramic views back towards town. $10 entry per vehicle. Just off Nine Mile Rd.
Wander through small galleries: You'll find many shopfront galleries as you roam the streets, and because Broken Hill is a magnet for artists, you'll find good work. Honest.
Visit a museum
Albert Kersten Mining & Minerals Museum: Local minerals and a silver tree are on display in this earth-science museum and geo-centre, which has interactive exhibits and mining memorabilia. It's a great way to get a take on Broken Hill's history and see the minerals that made the town flourish. I met a fellow traveller who reckons this is "even better than the mineral display at the Australian Museum in Sydney". (08) 8080 3500; 2 Bromide St.
The Royal Flying Doctor Service: A brilliant experience as it drives home how far from major services Broken Hill locals and outlying farmers are. Watch a film, see the displays and the planes in the hangar, and stock up on RFDS souvenirs to help this largely self-funded operation keep going. The Bruce Langford Visitors Centre, Broken Hill Airport. Open daily.
Migrant Heritage Museum: See who settled here and why. 370 Kaolin St. For a great online history check out this link.
Rail and Historical Museum: Old locomotives and historical records from 1888 to 1970, when the station closed. Open daily, 10am-3pm. Blende St, Broken Hill; (08) 8088 5961.
Silver City Mint & Art Centre: Home to the world's largest canvas painting by one artist (100m by 12m). Happily, it's a good one. Great silver jewellery for sale here too. 66 Chloride St.
Bell's Milk Bar: As a museum, this 1950s-style café is a hit. Browse through the memorabilia and some oversized info boards about the glory days of milk bars. It is well worth a stop for a brain-tinglingly sweet milkshake made with original-recipe Bell's flavouring and a warm, caramel-doused Belgian waffle.
Remember those who came before
Historic Cemetery: On the northern outskirts of Broken Hill on Barrier Highway (Rakow St). There's an online search facility to help find ancestors' graves: brokenhill.net.au/Cem.php
The Miners' Memorial: A contemporary architectural tribute in russet-red BHP steel sits atop the Line of Lode. Glass panels line the interior, commemorating the 700 or so miners who have lost their lives in the mines since the 1800s. It's both fascinating and horrifying to read how they died. In contrast, the viewing platform here is incredibly tranquil – it can get windy, but if you're lucky enough to come here alone, you can stand and peacefully reflect on the gridded streets, the low-rise townscape, the desert and the hills beyond.
The Titanic Memorial: Sturt Park Reserve was named in 1944 in recognition of the centenary of inland exploration. But it's the memorial to the ill-fated band from Broken Hill, which played on while the Titanic sank, that really brings a tear to the eye. Near the rotunda, cnr Sulphide and Wolfram Sts.
Wander around
The Heritage Trail: This two-hour signposted walking tour takes in the area's heritage buildings. Guided tours follow the Trail on Monday, Wednesday and Friday, departing at 9am from the Visitor Information Centre on the corner of Blende and Bromide Sts.
Things to do out of town
Go underground
Daydream Mine: A historic mine along a 12km dirt track off Silverton Rd, about 20 minutes north-west of Broken Hill. You're likely to see wild goats standing on boulders or running in front of the car. I did, and they scared the bejesus out of me. Great scenery, though! The mine site is fascinating and owner-operators Kevin and Beth White conduct tours with enthusiasm.
The surface tour takes you around points of interest such as disused shaft entrances and a mia-mia, a small igloo-like rock mound that miners used to sleep in sitting up after they'd knocked themselves out with opium or horehound beer.
I'd love to tell you about the underground tour but I got claustrophobic and bolted back out. But I can report that the mine serves some of the best scones I've ever eaten, probably because they are made with equal parts milk and cream (Cornish cream tea, $7). Check website for opening times.
Drive out to Silverton
Half an hour's roller-coaster-ride of a drive out of Broken Hill (there are 39 "dips" on the Silverton Rd between the towns), you'll find this tiny place, population 60, with more than its share of tourist attractions. You won't need street names to find them, either.
Silverton Hotel: One of the most filmed heritage pubs in Australia, it has appeared in films such as Wake in Fright and Mad Max 2. Open daily, from 9am to late (Sun 10am-9pm).
Mad Max Museum: It took a brave Brit to open a museum dedicated to one of the most influential Aussie films ever made – Mad Max 2 – in the very location it was filmed.
Originally from Yorkshire, film fan and panelbeater Adrian Bennett set up the museum 18 months ago, filling it with location shots, signed actor photos, costumes, replica and original vehicles, and a startlingly lifelike Mel Gibson head made from car bog. Have a chat to Adrian, a lovely guy and the region's most passionate tourism operator. If you're really nice he may start up the replica Interceptor's engine for you (the original car is in a museum in Florida). It purrs. (08) 8088 6128.
Silverton Tea Rooms: You don't expect food as good as this in a town so small; or a restaurant this immaculate in a town so dusty. Recommended: the Gun Shearer's Pie and homemade quandong ice-cream – yum! The shop sells antiques, collectibles and a wealth of old bottles and crockery dug up around town.
Silverton Gaol Museum: A great building filled with a thorough collection of photos and mementos from Silverton's heyday in the late 1800s and early 1900s. Open 9.30am-4.30pm.
John Dynon Art Gallery: Look for the Vegemite-painted VWs at the top of the hill, in what John calls "Silverton Heights". The cars were painted by outback artist Peter Browne; John is the artist in residence in the gallery, which is a very cool cottage.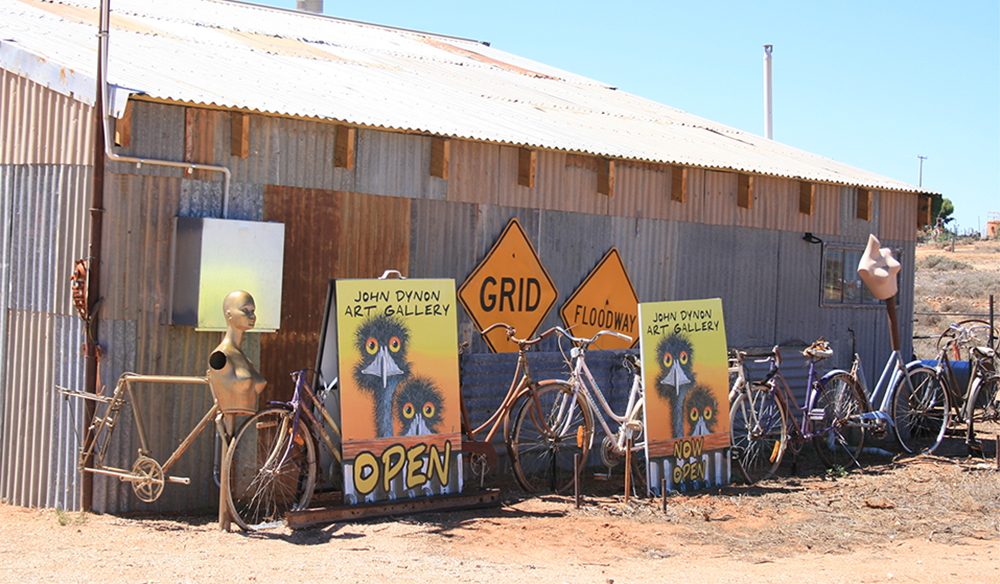 Mundi Mundi Lookout: On a clear day you can see the curvature of the earth as you look across the Mundi Mundi Plains. I was there on a rare rainy day, but I did see emus. FYI: The truck-crash scene in Mad Max 2 was shot near here (see, Adrian's enthusiasm is contagious!).
At the junction of the Murray and Darling Rivers, about 100km (1½ hours' drive) south-east of Broken Hill on the Menindee-Broken Hill Rd, you'll find this flourishing lake system primed for fishing and birdwatching, along with the historic town. Go to Menindee Visitors Information Centre at 49 Yartla St to find out what to see.
Where to eat and drink
Still an old-school country town at heart, Broken Hill isn't known for its gourmet food culture. You'll find loads of nice cafés, pizzerias and a Chinese restaurant, as well as many local-style pubs, along the main streets. The place locals go for special occasions and date nights is the only fine-dining experience in town, Broken Earth Cafe. Its menu features modern Australian cuisine with bushtucker flavours, accompanied by those magnificent town views from the summit of the mullock heap. Book dinner in time to catch sunset, and visit the Miners' Memorial beforehand. Federation Way (cross the railway line off Iodide St and turn right).
Where to stay
You're unlikely to be stuck for somewhere to stay unless you come when an event is on. There are loads of accommodation options, and none of them is overpriced.
Budget
Broken Hill Tourist Park: A pet-friendly caravan park on the northern side of town with camping, powered and ensuite sites plus a range of air-conditioned cabins, from standard to deluxe. Unpowered sites cost from $28 per night; powered sites from $33; cabins from $85. 42 Rakow St (Barrier Hwy).
Affordable
Jadan Cottages: Two small, self-contained, semidetached period cottages to the north-west of town, within a block of a large supermarket. Comfortably decked out and clean, with laundries, courtyards with barbecues, and full kitchens stocked with breakfast supplies and snacks. One-bedroom cottage, $100 per night for two. Two-bedroom cottage, $120 for four (can sleep an extra person at $10 a night on a fold-out sofabed). 103 Bismuth St; to book, phone 0411 958 765.
Palace Hotel: Built in 1889 as a European-style coffee house (a luxe alternative to the many pubs of the era) this grand old building is a technicolour delight. The interior walls and ceilings are painted with bold Australian landscapes, and guests always want to see the Priscilla Suite – a dormitory-style room that featured in The Adventures of Priscilla, Queen of the Desert, with walls depicting a vivid blue bush scene. The Palace used to be Mario's Place, but is now under new management.
Host Esther La Rovere is as vibrant as her hotel, and the Palace now has live bands in the cavernous lounge. The restaurant serves large, wholesome dishes; I had a delicious warm Mediterranean lamb salad here. If you're coming on a romantic getaway, be warned: it can be a bit of a party pub; it's a fun place where large groups often congregate of an evening on the wide verandah (which also happens to be next to the rooms). Book a top-floor room if you want a more peaceful night's sleep. Rooms from $60-$120 per night. 227 Argent St. To book, phone (08) 8088 1699
Luxury
Imperial Fine Accommodation: A heritage-style ex-pub with high ceilings and huge rooms. The old main bar is now a billiards room; the communal lounge has a bottle of port to help yourself to; and there's a swimming pool to cool off in – a real treat on a 40ºC-plus day. The rooms have ensuites and the wide verandah is the perfect spot for breakfast. The fridge is stocked with fresh tropical fruit, bacon and more for DIY cooked breakfasts before you head out for the day. 88 Oxide St. (08) 8087 7444
For more information on what to do in Broken Hill, go to outbacknsw.com.au