I peer out from an open space between the shower's corrugated iron wall and the pitched canvas overhead. A symphony of cicadas wafts in on warm breaths of gumtree-scented air as I absorb the panorama of bushland, tinted golden by the setting sun. Beyond lies the ocean, a brushstroke horizon of pinky greys and blues. There is not another soul in sight, besides my husband, who's gone all Bear Grylls starting a fire out front.
It's soul-soothingly blissful, yet one thought keeps interrupting my serenity: I should've listened to Sandy.
When I'd booked this secret getaway through website Airbnb, Sandy, the lovely owner, had gently suggested "there is too much paradise" to fit into a one-night stay. But one night is all we have right now and we're desperate to 'go bush'; to swim at the beach, sit by a fire and sleep the sleep of the dead. So, lacking the time, resources or energy for a traditional camping getaway, we've decided to try glamping.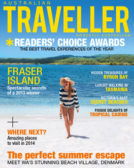 Enjoy this article?
You can find it in Issue 54 along with
loads of other great stories and tips.