onefinestay – a service most easily described as the Airbnb of luxury homes – has launched 22 stunning Sydney properties, with homes in Melbourne and Noosa to follow soon, in its first foray into Australia.
A glass-fronted beach house in Mosman that shows off its views through Sydney Heads; a South Coogee castle designed by architect Renato D'Ettorre; an elegantly updated Potts Point terrace that's filled with artwork. What do these three houses have in common? Aside from being the fantasy homes of many a daydreaming Sydneysider, they're all part of luxury private home rental brand onefinestay's new portfolio of 22 incredible Sydney properties, and ready to hire at your leisure.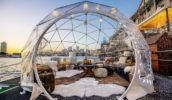 onefinestay is like the Airbnb of luxury homes: a service that grants the chance to stay in some of the world's (and now Australia's) most beautiful houses, with the added luxuries of professional 24/7 service, hotel-quality linens and a warm welcome on arrival (so no fumbling around with lock boxes and keypads in unfamiliar territory, wondering if you've even got the right house). It also offers individualised experiences tailored by the team's travel advisors, from the practical (like grocery delivery) to the indulgent (like spa services), and from restaurant reservations to private chefs.
Part of the AccorHotels family, the brand already has over 10,000 homes in over 200 destinations around the world to its name. Think Tuscan villas and Roman townhouses; Manhattan boltholes and Alpine ski chalets; Caribbean pads and Moroccan riads
In Sydney, the offering ranges from smart inner-city apartments and terrace homes to beachfront abodes in the Eastern Suburbs, Lower North Shore and Northern Beaches. Prices range from $270 per night for a one-bedroom city apartment to $4000 for the five-bedroom South Coogee castle. Two of particular note, are beautiful waterside offerings, both based right near Mosman, one the perfect weekender, is Bullecourt Terrace, the other is based in Chinaman's Beach, right next to Mosman, and overlooks the water with stunning views.
onefinestay's Sydney launch marks the brand's first foray into Australia, and the start of big things to come. In Victoria, It will soon launch a clutch of city apartments, terrace homes and more in Melbourne; as well as homes along the Great Ocean Road and in the Yarra Valley and Mornington and Bellarine peninsulas. In Queensland from June, we'll see a clutch of 10 enviable homes made available around Noosa. And – a hop over the ditch – onefinestay will also offer over 30 private rentals in New Zealand, focused around Auckland, Queenstown and Wanaka.
Or, if you're feeling that itch to fly north for the winter in pursuit of endless summer, check out onefinestay's newest retreat on the Greek island of Mykonos. Choose from one of 10 villas (with delightful names like Delilah, Ella, Cecile and Cloe), complete with infinity pools and concierge service. Oh, and a private dock and helipad. See you there?