The BLUE Hotel Sydney is now Ovolo Woolloomooloo. Check out our latest review
There are times when it's good to look and feel like a tourist – although few spring to mind. For all other occasions there are outfits like BLUE Sydney.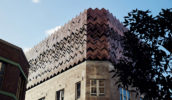 The boutique hotel is discreetly tucked into the oh-so-fashionable Woolloomooloo Finger Wharf. What was once a battleground for striking wharfies and picketing conservationists is now the playground of Sydney's celebocracy. It's home to a marina full of super yachts, a string of fine restaurants, luxury apartments and, of course, sparkling BLUE. This is the place to indulge in cultural camouflage. A place to blend in with Sydneysiders and enjoy the best of the city without ever having to hail a taxi or confront the traffic.

Even the hotel's name is discreet. It bears no reference to its function as an establishment catering to visitors. We arrive at the wharf with suitcases in tow. Even before we've spotted the hotel, we're greeted by a young man in casual clothes. When he offers to take our bags I'm not sure if he's going to leg it down the street or take our luggage to our room.
It's all part of BLUE's camouflage. From without, the hotel looks like a contemporary art gallery. From within the building's real purpose is similarly disguised. The hotel rooms hug the walls of the vast, airy warehouse. Conveyor belts and giant cogs, frozen in time, dominate the interior. They hint at the industrial activity that once took place here.
Now the old machinery forms the backdrop for the very funky Water Bar. Artistic screens and cosy furnishings add a touch of intimacy to this huge hanger-like room. And even if you're more frumpy than funky, the bar's extensive cocktail menu and dim lighting will help blur the difference. It may sound unadventurous, but start with the first item on the menu: the Vanilla Passion, a combination of Vanilla Vodka and passionfruit, is dreamy. Only the price or a pressing dinner reservation will stop you ordering another five.
I'm half expecting to find a container of Iranian figs stuffed into the wardrobe when we enter our loft room. But it's a comfortable oasis of contemporary neutrals and dark wood – well appointed, but with a narrow and somewhat cramped feel after the vast open spaces of foyer and bar. The room looks out across the wharf towards the Botanic Gardens and the city.
It's a warm afternoon and the wharf is busy with lunch goers and promenaders. Rubberneckers are hoping to spot the wharf's most famous resident, Russell Crowe. A few multimillion-dollar motor cruisers make their way back in from the harbour, but mostly the yachts lounge idly along the wharf waiting to be admired.
We slip into a shady table at Kingsleys Steakhouse. My husband enjoys the best oysters he's ever tasted and I enjoy the atmosphere. If we'd been a bit more dedicated to our camouflage my husband would be wearing white trousers and I'd be showing off plenty of suntanned flesh, like everyone else. For dinner, we take a recommendation from our porter and secure a table at another Finger Wharf eatery, China Doll. This lively Asian restaurant is heaving with diners. Large groups are swapping stories of ski holidays in Beaver Creek and other adventures. Our waitress suggests we order three dishes between the two of us. Even this is on the generous side. The tea-smoked duck is particularly large. Half a duck has been cleaved into pieces in a very authentic Asian manner. It stands out as the tastiest dish on our table and is a true test of our prowess with the chopsticks.
The following morning, we complete our Sydney lite tour with a stroll through the Botanic Gardens, taking in the view of the Harbour Bridge and Opera House. When we start to jostle with tourists at Mrs Macquarie's Chair we head straight back to the wharf for breakfast.
We take a seat at the most recent addition to Woolloomooloo dining, Salon Blanc. The mood is very casual. Couples read the paper over bacon and eggs. Children play around the wharf waiting for their babycinos. The tranquillity is broken by a man's voice booming across the water: "Russell Crowe! Are you at home?"
The enquiry is emanating from a cruise boat taking tourists around the harbour. We put our papers up a little higher and ignore the commotion.Tourists can be so annoying.
DETAILS // BLUE Sydney
Where // The Wharf at Woolloomooloo, 6 Cowper Wharf Rd.
Best time to go // AT's reviewer visited in February, a great post-hols time of year to secure good rates.
Cost // From $520 per night for a Rafter Room. More for Lofts.
Contacts // (02) 9331 9000, www.tajhotels.com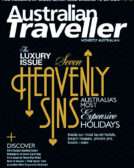 Enjoy this article?
You can find it in Issue 22 along with
loads of other great stories and tips.